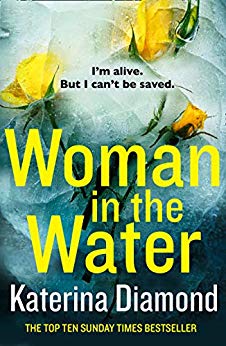 ShortBookandScribes #BookReview – Woman in the Water by Katerina Diamond @AvonBooksUK #BlogTour
I'm delighted to be reviewing this latest instalment in the Grey and Miles series today. My thanks to Sabah Khan for the place on the tour and the review copy of the book via Netgalley.
---
I'm alive. But I can't be saved . . .

When a woman's body is found submerged in icy water, police are shocked to find she is alive. But she won't disclose her name, or what happened to her – even when a second body is discovered. And then she disappears from her hospital bed.

Detectives Adrian Miles and Imogen Grey follow their only lead to the home of the Corrigans, looking for answers. But the more they dig into the couple's lives, the less they understand about them.

What's their connection to the body in the river?

Why have other people they know been hurt, or vanished?

And can they discover the dark truth of their marriage before it's too late?

Smart, shocking and twisty – perfect for fans of Cara Hunter and Karin Slaughter.
---

Wowee, I think this is the best of the Grey and Miles books I have read so far. I also just need to say this: Ms Diamond, how could you?!
The story opens with DS Adrian Miles rescuing a woman from an icy river. It seems she must be dead but amazingly she has survived. He feels really strongly about the woman as it seems like she has been a victim of some kind of violence and having grown up in an abusive household he is determined not to watch it happen to someone else.
Along with his partner, DS Imogen Grey, they start trying to find out who the woman is and how she ended up in the river. Not easy to begin with but as they start digging a story unfolds. That story follows a fairly standard path but with some deviations that made this a really rather chilling story. I'd already gleaned from other reviews that maybe something quite shocking was going to happen and it certainly does but it wasn't what I was expecting at all. I was horrified by this turn of events, more so I think because I had followed these characters across several books, but I thought the author dealt with it very well and very sympathetically.
Anyway, enough of that because I am definitely not going to spoil it for future readers. I found Woman in the Water to be absolutely gripping. The plot itself is disturbing and dark and there's also the evolving relationship between Imogen and Adrian running alongside it. I like them both so much and I do hope that we'll see more from them in the future. Katerina Diamond is a brilliant writer, constructing twisty crime thrillers with characters you can't help but care about. This is one of only a couple of police procedural series I look forward to reading and this instalment had me completely absorbed.
---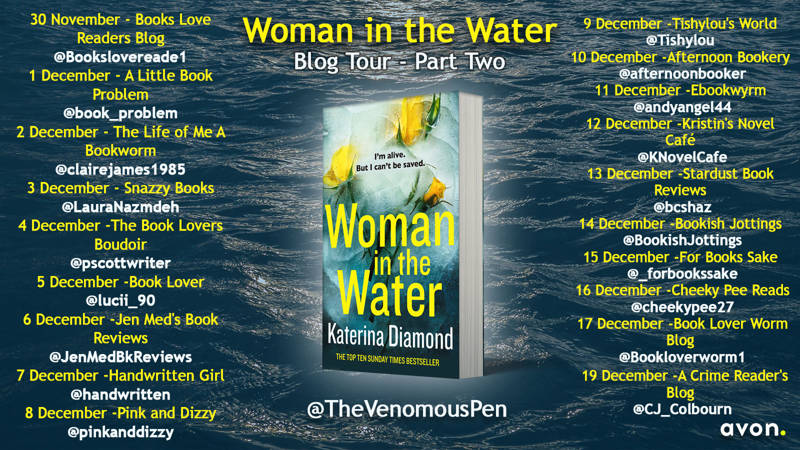 ---

Katerina is the author of the Sunday Times Best Selling Exeter based crime thriller series – starting with 'The Teacher' and followed by The Secret, The Angel, The Promise and Truth or Die. Katerina is currently working on her seventh novel which is a standalone.
Katerina also runs the facebook book group CRIME SUSPECT with several other crime authors.
Katerina currently lives in East Kent. Katerina was born in Weston-super-Mare and has lived in various places since including Greece, Cyprus, Derby, East London and Exeter. Katerina watches way too much TV.