ShortBookandScribes #BookReview – Winter's Wishfall by Ceri Houlbrook #BlogTour
It's my stop on the blog tour for Winter's Wishfall by Ceri Houlbrook which is out now in paperback, audiobook and eBook. My thanks to Black & White Publishing for the copy of the book and Tracy Fenton of Compulsive Readers for the place on the tour.
---

---
You're never too old to believe . . .

After losing her job, boyfriend and flat just a few weeks before Christmas, Ellie Lancaster makes some resolutions:
1. Exact revenge on ex.
2. Be unboring.
3. Find a job.

With #1 complete, Ellie manages to tick off #2 and #3 simultaneously by accepting a mysterious archiving job on a tiny Scottish Island that doesn't seem to exist on any map.

In the new year, her equally new bosses – celebrity baker Clementine Jones and her straight-laced twin brother Cole – introduce Ellie to the archives: a vast network of underground caverns, filled with scrolls dating back centuries, each addressed to the same person, in a multitude of languages: Dear Father Christmas . . .

Despite the strangeness of it all, Ellie quickly falls in love with her new life – but things are never simple, and just as she and Cole seem to be overcoming their mutual distrust, Ellie makes a fourth resolution – one that threatens everything she's come to hold dear. As the big day itself draws near, she has one chance to put things right and bring about her own Christmas miracle . .
---

---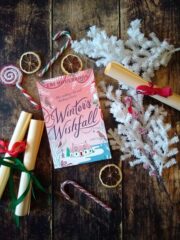 The premise of Winter's Wishfall had me at 'archiving job' and 'tiny Scottish island', two components that I felt were guaranteed to be a hit with me, and then totally blew me away with everything else that makes up this heartwarming and quirky festive read.
Ellie Lancaster applies for the job advertised by twins Clementine and Cole Jones and promptly finds herself on a boat heading for the island. It isn't what she expected but she soon starts to settle in, loving the work, the island and the people she lives and works with. It's certainly an unusual job, something she discovers on her first day when she's escorted into a cavern and invited to start cataloguing scrolls, all of which are addressed to Father Christmas. It soon becomes clear to Ellie that the island is a magical place indeed.
Winter's Wishfall is a beautifully written book, executed to perfection. It never trips over into the twee, always maintaining a sense of reality and normality amidst the mysterious and enchanting. I loved Ellie as a main character and found her likeable and kind-hearted, but I thought all the characters were wonderful and so well-drawn. Clementine is a celebrity baker and her creations added warmth and flavour. Where she is more spontaneous and fun, Cole is the more serious of the twins, a lawyer who understands the need for confidentiality agreements. Then there's Uncle Joe, a gentle sweetheart of a man.
This book has it all. Characters to care for, an appealing and spellbinding magical realism plot, and a windswept and beautiful setting. It brings to life the fairy-tale of Christmas and wraps itself around the reader like a warm blanket. I completely and utterly adored it.
---

---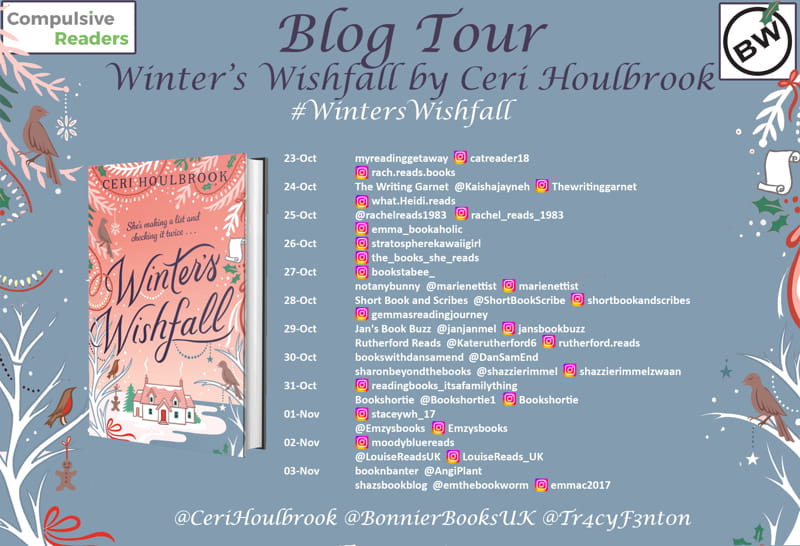 ---
---
Ceri Houlbrook is a Folklore and History Lecturer at the University of Hertfordshire, and has published academic books and articles on contemporary folklore and domestic rituals. Winter's Wishfall is her debut novel and combines her academic interests with her love of magical realism and creative writing.
She lives in Manchester with her fellow-adventurer husband and their little pirate, Captain Jojo.