ShortBookandScribes #BookReview – What July Knew by Emily Koch
What July Knew by Emily Koch will be published by Harvill Secker on 9th February in hardcover, eBook and audiobook. My thanks to Kate Neilan for the proof copy.
---

---
Summer, 1995.

July Hooper knows eighteen things about her mother.

Like number thirteen: she loved dancing on the kitchen table. And number eight: she was covered in freckles.

And then there's number two: she died after being hit by a car when July was small.

She keeps this list hidden in a drawer away from her father. Because they're not allowed to talk about her mother. Ever.

But an anonymous note slipped into July's bag on her tenth birthday is about to change everything she thinks she knows about her mum.

Determined to discover what really happened to her, July begins to investigate, cycling around the neighbourhood where her family used to live. There she meets someone who might finally have the answers.

July wants her family to stop lying to her, but will the truth be harder to face?
---

---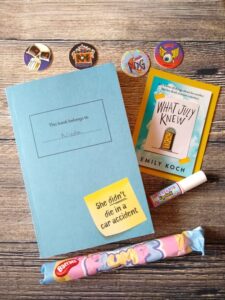 What does July Hooper know? She only knows 18 things about the mother who died when she was little. She knows that her father is a difficult man who keeps details about her mum to himself and doesn't like July asking about her. A school project and an anonymous note lead her down a path of discovery where she learns much more than she could ever have imagined.
July turns ten at the beginning of this book: so young and yet so plucky. I loved her character and her quest for the truth about what really happened. I don't think writing an authentic child protagonist is an easy task but Emily Koch has done a fantastic job with not only July but her stepsister, Sylvie, too. The dynamic between them is a perfect mixture of the friendship and rivalry that often exists between children and I regularly found myself smiling at their exchanges.
July's story is not always easy to read. She misses the mother she doesn't remember and seems to antagonise her father without even trying, but there's Shell, the stepmother who looks out for her, her grandparents, and a new person who she discovers can possibly fill in some blanks for her. As she edges closer to the truth there are revelations aplenty for July and for the reader.
This is such a beautiful novel. The author displays a deft touch when combining the innocence of 10 year old July with the dark story that unfolds before the reader's eyes. Yet, although that darkness is abundantly clear, there is still hope shimmering through. It accurately depicts the complicated home lives that people sometimes must live with and my heart broke for July, who just wanted a kind word or gesture from her daddy.
I thought What July Knows was a very special book with a very special main character who I took to my heart. This is a story about growing up, taking responsibility and challenging what you're told, a mystery that is also a domestic drama and psychological fiction. I enjoyed it so much.
---
---
Emily Koch is an award-winning journalist and author of two novels, If I Die Before I Wake and Keep Him Close. Her bookshave been shortlisted for the Crime Writers' Association Ian Fleming Steel Dagger award, won France's Prix du Bureau des Lecteurs Folio Policier, longlisted for the Authors' Club Best First Novel Award, and been selected as a Waterstones Thriller of the Month. Waterstones said her second novel 'cements Koch's place as one of the most exciting new crime writers of our day.' She lives in Bristol.