ShortBookandScribes #BookReview – Water by John Boyne
Water by John Boyne is the first in a set of four novellas and will be published by Doubleday on 2nd November in hardcover, eBook and audiobook. My thanks to Hannah Winter and the team at Doubleday for the gorgeous proof package.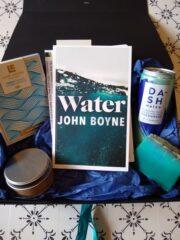 ---

---
From million-copy-bestselling author John Boyne comes a masterfully reflective story about one woman coming to terms with the demons of her past and finding a new path forward.

The first thing Vanessa Carvin does when she arrives on the island is change her name. To the locals, she is Willow Hale, a solitary outsider escaping Dublin to live a hermetic existence in a small cottage, not a notorious woman on the run from her past.

But scandals follow like hunting dogs. And she has some questions of her own to answer. If her ex-husband is really the monster everyone says he is, then how complicit was she in his crimes?

Escaping her old life might seem like a good idea but the choices she has made throughout her marriage have consequences. Here, on the island, Vanessa must reflect on what she did – and did not do. Only then can she discover whether she is worthy of finding peace at all.

Can you ever truly wash away your past?
---

---
Water is the first in a set of four novellas, each one focused around one of the elements. It is no less hard-hitting for its brevity. Vanessa Carvin travels to a small Irish island after leaving her home in Dublin and immediately changes her name to Willow Hale, knowing that the islanders will be curious as to why she's chosen to go there and live such a solitary lifestyle. As the story unfolds we learn why she has fled there and the role of water in her narrative.
I was hooked on this book from page one and it didn't loosen its grip on me until I turned the last page. It's completely compelling and has an emotional intensity that put me right into Willow's shoes, living an isolated life away from the horrors that she was trying to escape, with the time and space to consider whether deep down she knew what her husband was capable of.
There's so much that is special about Water. An island location is always a hit with me, and in this case it's a very small, closed community that Willow chooses to enter, both perfect for its solitude but potentially inviting interest in why she's there. Willow's relationship with her daughter and the beautiful redemptive exchange with her towards the end of the book was emotive, and I also particularly liked another relationship that she developed during her time on the island.
I don't think John Boyne could write a bad book if he tried. Every one is a triumph in its own right, unique and perfectly formed. I'm looking forward now to reading Earth, which features a minor character from Water, and promises to be just as powerful a read. In the meantime, I heartily recommend Water for its uncompromising and thought-provoking story and the superb writing.
---
---
John Boyne is the author of fifteen novels for adults, six for younger readers, and a collection of short stories. His 2006 novel The Boy in the Striped Pyjamas has sold more than 11 million copies worldwide and has been adapted for cinema, theatre, ballet, and opera. His many international bestsellers include The Heart's Invisible Furies and A Ladder to the Sky. He has won four Irish Book Awards, including Author of the Year in 2022, along with a host of other international literary prizes. His novels are published in sixty languages.
Twitter: @JohnBoyneBooks
Instagram: @JohnBoyneAuthor