ShortBookandScribes #BookReview – Violet by SJI Holliday @OrendaBooks #RandomThingsTours #BlogTour
I'm so pleased to be reviewing Violet by SJI Holliday today. It's a fantastic read. My thanks to Karen Sullivan of Orenda Books for sending me a proof copy of the book for review purposes and to Anne Cater from Random Things Tours for the place on the tour.
---
Carrie's best friend has an accident and can no longer make the round-the-world trip they'd planned together, so Carrie decides to go it alone.

Violet is also travelling alone, after splitting up with her boyfriend in Thailand. She is also desperate for a ticket on the Trans-Siberian Express, but there is nothing available.

When the two women meet in a Beijing Hotel, Carrie makes the impulsive decision to invite Violet to take her best friend's place.

Thrown together in a strange country, and the cramped cabin of the train, the women soon form a bond. But as the journey continues, through Mongolia and into Russia, things start to unravel – because one of these women is not who she claims to be…

A tense and twisted psychological thriller about obsession, manipulation and toxic friendships, Violet also reminds us that there's a reason why mother told us not to talk to strangers…
---

I really enjoyed SJI Holliday's last book, The Lingering, and so I was excited to read Violet which is a really dark psychological thriller. What particularly appealed to me was the setting. Violet and Carrie first meet in Beijing. Both are travelling and Violet has just split from her boyfriend. Carrie is travelling alone because the friend she was supposed to be with has broken her leg. Violet needs a ticket for the Trans-Siberian Express and Carrie just happens to have one so they hook up and travel together.
I loved following the two women along the way but this is no happy hippy backpacker tale. Oh no, this is much more sinister and makes you think about who you make friends with and how little you really know about a person.. A woman travelling alone is in a vulnerable position but you'd think another woman travelling alone would be the perfect companion. Not here. I won't go into it any further but suffice it to say that one of the women is someone I would definitely want to stay clear of, although I did often wonder if I could trust either of them.
I had a moment towards the end when I thought "Killing Eve!". There are definitely vibes of that in this story. I've since seen that I'm not the only person who thought that. The journey takes in Russia and Germany amongst other places and some of the events seemed very similar to those in the TV programme.
There were twists and gasps galore as I just didn't know what was coming and the ending was brilliant. It's a wonderfully atmospheric novel. I enjoy being transported to other countries and it was interesting to see how the women coped with the problems that were thrown at them. Being in a foreign country and in any kind of peril is a really scary prospect, even just to read about.
The author has done a fabulous job at writing a gripping travel thriller, a multi-layered and realistic one. I found it to be a tense and exciting read.
---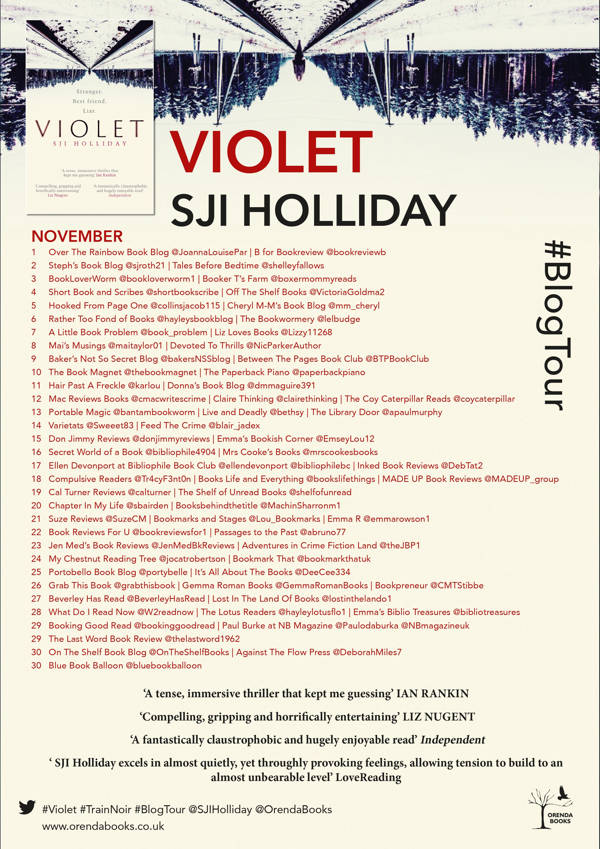 ---

S.J.I. (Susi) Holliday is a scientist, writing coach and the bestselling author of five crime novels, including the Banktoun Trilogy (Black Wood, Willow Walk and The Damselfly), the festive chiller The Deaths of December and her creepy Gothic psychological thriller The Lingering. Her short story 'Home From Home' was published in Alfred Hitchcock Mystery Magazine and shortlisted for the CWA Margery Allingham Prize. Encapsulating her love of travel and claustrophobic settings, her latest novel, Violet, explores toxic friendships and the perils of talking to strangers, as well as drawing on her own journey on the Trans-Siberian Express over 10 years ago. All of her novels have been UK ebook number-one bestsellers. Susi was born and raised in Scotland and now divides her time between Edinburgh, London and as many other exciting places that she can fit in.