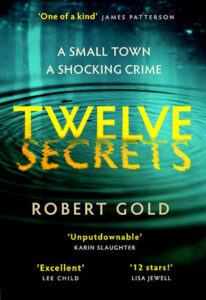 ShortBookandScribes #BookReview – Twelve Secrets by Robert Gold
My review today is of Twelve Secrets by Robert Gold which was published earlier this month in hardcover, eBook and audiobook. My thanks to Millie Seaward at Sphere for the gorgeous shiny proof copy for review purposes.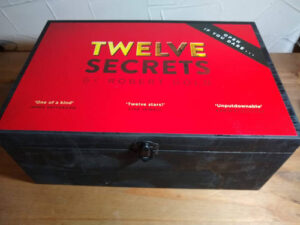 ---

---
A SMALL TOWN. A SHOCKING CRIME.
YOU'LL SUSPECT EVERY CHARACTER. BUT YOU'LL NEVER GUESS THE ENDING.

Ben Harper's life changed for ever the day his older brother Nick was murdered by two classmates. It was a crime that shocked the nation and catapulted Ben's family and their idyllic hometown, Haddley, into the spotlight.

Twenty years on, Ben is one of the best investigative journalists in the country and settled back in Haddley, thanks to the support of its close-knit community. But then a fresh murder case shines new light on his brother's death and throws suspicion on those closest to him.

Ben is about to discover that in Haddley no one is as they seem. Everyone has something to hide.

And someone will do anything to keep the truth buried . . .
---

---
I love a book about secrets in a small town setting and Twelve Secrets fits the bill perfectly. Haddley is where Ben Harper's older brother, Nick, was murdered alongside his friend when they were all at school. Now Ben is a journalist and living in his home town alongside people who remember exactly the devastation the murders wrought on Ben and his family, and also on the wider community. New developments mean that Ben must rethink what he thought he knew and look at some of the people who were around then with fresh eyes.
There's a claustrophobic and intense feel to Haddley and its residents. There seem to be so many people interlinked in some way and living in close proximity. That and the childhood crimes storyline were what really drew me to this book and I wasn't at all disappointed. This is a gripping read, a domestic thriller that never let up on pace and surprised me at the end with a conclusion that I really didn't see coming. As the tagline says, I really did suspect every character.
I liked Ben as a character and how he started his own investigation into the past events and those in the present too, and I also liked his unlikely sidekick, PC Dani Cash, and his relationship with his neighbours, Mr and Mrs Cranfield. All the characterisations work really well in this book, with some people who seemed distinctly shady and some who were trying to break free of the past.
Twelve Secrets is an engaging and fast-paced crime thriller. I spotted that this might be the first to feature Ben Harper and I'll definitely be reading more if it turns into a series. In fact, this is exactly the sort of story that would make a brilliant TV crime drama. It's twisty and exciting, and I thought it was an excellent read.
---
---
Originally from Harrogate in North Yorkshire, Robert Gold began his career as an intern at the American broadcaster CNN, based in Washington DC. He returned to Yorkshire to work for the retailer ASDA, becoming the chain's nationwide book buyer. He now works in sales for a UK publishing company. Robert now lives in Putney and his new hometown served as the inspiration for the fictional town of Haddley in Twelve Secrets. In 2016, he co-authored three titles in James Patterson's Bookshots series.