ShortBookandScribes #BookReview – True Story by Kate Reed Petty
My review today is of True Story by Kate Reed Petty which is due to be published on 4th August. My thanks to riverrun for sending me a proof copy for review purposes.
---

---
After a college party, two boys drive a girl home: drunk and passed out in the back seat. Rumours spread about what they did to her, but later they'll tell the police a different version of events. Alice will never remember what truly happened. Her fracture runs deep, hidden beneath cleverness and wry humour. Nick – a sensitive, misguided boy who stood by – will never forget.

That's just the beginning of this extraordinary journey into memory, fear and self-portrayal. Through university applications, a terrifying abusive relationship, a fateful reckoning with addiction and a final mind-bending twist, Alice and Nick will take on different roles to each other – some real, some invented – until finally, brought face to face once again, the secret of that night is revealed.

Startlingly relevant and enthralling in its brilliance, True Story is by turns a campus novel, psychological thriller, horror story and crime noir, each narrative frame stripping away the fictions we tell about women, men and the very nature of truth. It introduces Kate Reed Petty as a provocative new voice in contemporary fiction.
---
---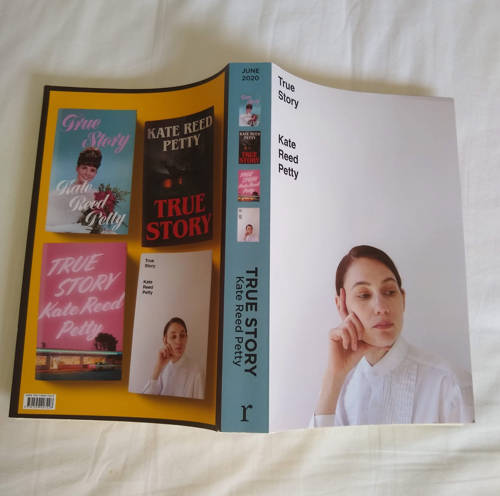 I actually don't know where to begin with this review. True Story is a much hyped new release and I can understand why as it's high concept fiction offering a mixture of genres. I'm not entirely sure I really 'got' it though.
It's billed as a campus novel, psychological thriller, horror story and crime noir, hence the four different covers, and the story is told in different ways: conventional narrative, film script, college application and emails. I found it all very easy to read and I raced through it, although I have to say I preferred the conventional storytelling device out of all of them.
The story is about a sexual assault on a private school girl after a college party in 1999 America. The girl, Alice, was never sure exactly what had been done to her by the boys who took her home that night, and it had a huge effect on her life over the years that followed, as you might expect. The other major character is Nick, not one of the boys in the car, but an onlooker, complicit by being part of the gang of lacrosse players, reluctantly backing up his friends.
It's all very cleverly tied together in a way that isn't always obvious. I think this is a book I will remember and think about as there are parts that really worked for me, and it's such a thought-provoking story of a girl being taken advantage of and the power of rumours. However, there were also sections that didn't quite work for me where I couldn't quite figure out what part they played. I think it's the quality of the writing that got me through, rather than the unconventional structure.
There's a strong message in there about the power of the truth though. Whose truth? Is your truth really the truth? I didn't love it but I didn't hate it. Nonplussed is the word. True Story.
---

---
Kate Reed Petty lives in Baltimore, Maryland. Her work has been published by Electric Literature, American Short Fiction, Los Angeles Review of Books Blog, and many others, and her short films have appeared on Narrative magazine and at the Maryland Film Festival. She is also co-author of the children's graphic novel Chasma Knights, with Boya Sun. Petty graduated from the College of William & Mary, and earned Kate and she holds a master of letters in fiction writing from the University of St Andrews, Scotland.