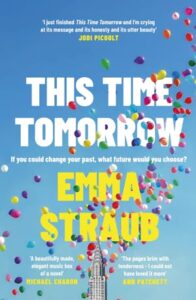 ShortBookandScribes #BookReview – This Time Tomorrow by Emma Straub
This Time Tomorrow by Emma Straub was published yesterday by Michael Joseph in hardcover, eBook and audiobook. My thanks to Gaby Young for the proof copy.
---

---
If you could go back, would you do things differently?

Alice Stern isn't ready to turn forty. She thought she'd have more time to figure it all out. Above all, she thought she'd have more time with her father, Leonard – but he's lying in a hospital bed and Alice isn't sure if she'll hear his voice again.

When she falls asleep outside their old apartment on the night before her birthday, she's surprised to be greeted the next morning by a much younger Leonard, with a sixteenth birthday card for a teenage Alice who, far from clinging to her youth, is hurtling towards adulthood . . .

Alice soon discovers how she got back here, to 1996 and her sixteenth birthday, and realises she can keep on coming, whenever she chooses.

But faced each time with different versions of her life, and the consequences of her decisions, it's on her not to lose sight of what she wants most . . .
---

---
Alice Stern lives in New York, works in a job she likes but finds unfulfilling, and hasn't managed to find a relationship that is right for her yet. Her father, Leonard, is in hospital and may not wake up again. About to turn 40, she stays the night at her old home, her father's home, and wakes up there the next day, not as a 40 year old but as a 16 year old.
I came to This Time Tomorrow for the time travel element. I love the genre and whilst I didn't necessarily understand why it had happened for Alice, I just loved that it did happen and she got to see her father again as a younger man. The beginning of the book drew me right in and this was before the travel back in time. I enjoyed the scene-setting, getting to know Alice and her life before it was turned upside down. Even though I feel like the reader was supposed to think her life was flat and empty, it didn't really feel that way and I think Alice had a pretty good life apart from her father's ill-health.
After she went back in time I did feel like it lost something along the way and my interest started to dip a little. Maybe I was just confused. This is quite a complex and poignant story of emotions and nostalgia, and I wasn't entirely sure what Alice was doing, although I knew what she was aiming for: more time with her father.
I thought This Time Tomorrow was a touching story of revisiting the past and I liked the father/daughter relationship between Leonard and Alice which felt really special. For the most part I enjoyed this book but I think it lacked the emotion I craved to really make me empathise with Alice's predicament.
---
---
Emma Straub is the New York Times bestselling author of four novels, The Vacationers, Modern Lovers, Laura Lamont's Life in Pictures, All Adults Here and the short story collection Other People We Married. Her books have been published in twenty countries. She and her husband own Books Are Magic, an independent bookstore in Brooklyn, New York.