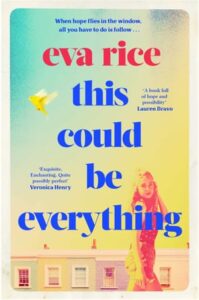 ShortBookandScribes #BookReview – This Could be Everything by Eva Rice
This Could be Everything is published by Simon & Schuster and is available now in hardcover, eBook and audiobook. My thanks to Sabah Khan for the proof copy.
---

---
From the author of modern classic The Lost Art of Keeping Secrets comes a feel-good novel about hope, love and the powerful bond between sisters. 

It's 1990. The Happy Mondays are in the charts, a 15-year-old called Kate Moss is on the cover of the Face magazine, and Julia Roberts wears thigh-boots for the poster for a new movie called Pretty Woman.

February Kingdom is nineteen years old when she is knocked sideways by family tragedy. Then one evening in May she finds an escaped canary in her kitchen and it sparks a glimmer of hope in her. With the help of the bird called Yellow, Feb starts to feel her way out of her own private darkness, just as her aunt embarks on a passionate and all-consuming affair with a married American drama teacher.

THIS COULD BE EVERYTHING is a coming-of-age story with its roots under the pavements of a pre-Richard Curtis-era Notting Hill that has all but vanished. It's about what happens when you start looking after something more important than you, and the hope a yellow bird can bring…
---

---
It's 1990 and February Kingdom (what a fabulous name!) is 19, just a few years older than I was at the same time, and the scene is set perfectly, taking me back to the days of the Sony Walkman and trying desperately to record the Top 40 countdown onto a cassette tape.
February's short life has been beset by tragedy at every turn, losing her parents and later her twin sister in terrible circumstances. Understandably, everyday life is difficult to cope with now and she hasn't been out for months. Could a little yellow bird and a boy named Theo be enough to help her carry on?
This is very much a character-driven plot and the characters are well-written, fascinating and larger-than-life creations that I really enjoyed reading about. There's a subplot featuring February's aunt and uncle and I think Ann, the aunt having something of an awakening of her own, was possibly my favourite character of all, along with the rather special Theo. I also loved Plato, a would-be pop star, and a cameo appearance by Michael Hutchence was such a thrill. The music storylines transported me right back to the 90s and the days of excitedly flicking through the new issue of Smash Hits for my latest heartthrob. It's such an evocative read in so many ways.
This is not my first Eva Rice, in fact I've been reading her since her first book, Standing Room Only. I've always enjoyed her quite wistful and whimsical style of writing, combined with the way she completely transports me to another time or place, or way of living. This Could be Everything is a sad read in many ways, but it left me feeling ultimately full of hope for February's future. Some very clever plot developments that I never saw coming but which made perfect sense once they were revealed, coupled with the dynamics between the characters, make this a charming read.
---
---
Eva Rice has written 5 novels and is the author of the Sunday Times bestseller The Lost Art of Keeping Secrets- a post-war coming-of-age story that was runner-up in the 2006 Richard and Judy Book of the Year. A 10th anniversary edition of the novel was published in 2015 with a foreword by Miranda Hart. The Lost Art Of Keeping Secrets is currently being developed by Fudge Park (creators of The Inbetweeners) and Moonage Pictures (Pursuit of Love) as a major new TV series. Eva has toured with bands since her early twenties. She has written the music and lyrics for Harriet a musical based on an early Jilly Cooper novel due to open in 2023. She has a geek-like fascination with pop music, and her party trick is recalling chart positions. Follow her on twitter @EvaRiceAuthor