ShortBookandScribes #BookReview – These Lost and Broken Things by Helen Fields @Helen_Fields @Lovebooksgroup #BlogTour
I'm delighted to welcome you to my stop on the blog tour for These Lost and Broken Things by Helen Fields, one of my favourite authors. My thanks to Helen for sending a proof copy of the book for review purposes (the cover has since changed) and to Kelly from Love Books Tours for the place on the tour.
---

---
Girl. Mother. Assassin.

How dangerous is a woman with nothing left to lose?

The year is 1905. London is a playground for the rich and a death trap for the poor. When Sofia Logan's husband dies unexpectedly, leaving her penniless with two young children, she knows she will do anything to keep them from the workhouse. But can she bring herself to murder? Even if she has done it before…

Emmet Vinsant, wealthy industrialist, offers Sofia a job in one of his gaming houses. He knows more about Sofia's past than he has revealed. Brought up as part of a travelling fair, she's an expert at counting cards and spotting cheats, and Vinsant puts her talents to good use. His demands on her grow until she finds herself with blood on her hands.

Set against the backdrop of the Suffragette protests, with industry changing the face of the city but disease still rampant, and poverty the greatest threat of all, every decision you make is life or death. Either yours or someone else's.

Read the first explosive historical thriller from best-selling crime writer of the DI Callanach series, Helen Fields.

 
---

---
Girl ● Mother ● Assassin
I always love a Helen Fields book, no matter whether she's writing her gritty police/crime series, psychological thrillers as H.S. Chandler, or now historical thrillers.
These Lost and Broken Things is very much Sofia's story. As the book begins she's 12 and about to experience something that will change her life forever. We then switch to London in 1905 where she's living as a poor but respectable wife and mother. When her husband dies suddenly she is lured into the life of a gambler initially, but then into something much more disturbing and menacing, as the tagline suggests.
It's an incredibly gripping story. Sofia is quite a woman, determined to survive but also with this darkness inside her that is so unexpected and so brilliantly depicted. There's the grittiness that I've come to expect from this author's books, but there's also a deep-rooted need to survive on Sofia's part. She's a Jekyll and Hyde character, one who is hiding this other, sinister side of herself. Despite all of this, I couldn't help but like her for her gutsiness and her cunning. I think the author used the backdrop of the Suffragette marches and protests to brilliant effect to symbolise the fact that Sofia is just another woman fighting against men who think they own her.
I raced through this book and read it in a day. I just couldn't put it down. Helen Fields is an incredibly versatile author who seems to be able to turn her hand to anything. What will be next? I can't wait to find out.
---

---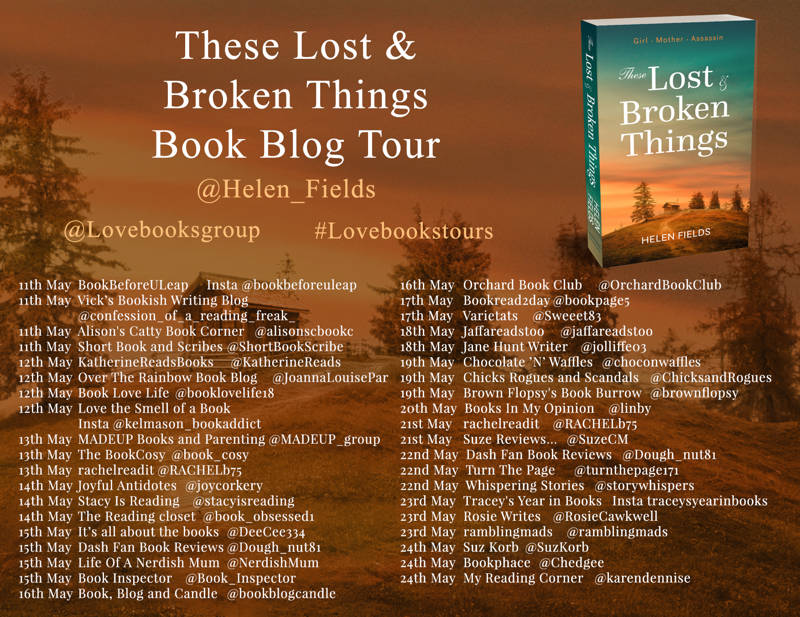 ---
---
An international and Amazon #1 best-selling author, Helen is a former criminal and family law barrister. Every book in the Callanach series claimed an Amazon #1 bestseller flag. Her next book, the sixth in the series, 'Perfect Kill' is due out on 6 February 2020. Helen also writes as HS Chandler, and last year released legal thriller 'Degrees of Guilt'. Her previous audio book 'Perfect Crime' knocked Michelle Obama off the #1 spot. Translated into 15 languages, and also selling in the USA, Canada & Australasia, Helen's books have won global recognition. Her first historical thriller 'These Lost & Broken Things' comes out in May 2020. A further standalone thriller published by HarperColllins will come soon. She currently commutes between Hampshire, Scotland and California, where she lives with her husband and three children.