ShortBookandScribes #BookReview – Thea and Denise by Caroline Bond
Thea and Denise by Caroline Bond will be published by Corvus in hardcover and eBook on 2nd June. My thanks to Kirsty Doole for the proof copy of the book.
---

---
'Oh, you're not crazy, Denise. I think this is probably the sanest you've ever been…'

Two women. An open road. The trip of a lifetime.

Thea is confident, sorted, determined to have fun, but there are sorrows beneath the surface of her life.

Denise is struggling under the weight of her many commitments and in desperate need of some excitement.

When these polar opposites meet, and unexpectedly become friends, they realise they're both looking to escape.

So begins a road trip that leads them far from home and yet closer to their true selves.

But they can't outrun their pasts forever and when things start to become complicated, both women have an important decision to make. Do they give up or keep going? Turn around or drive on?
---

---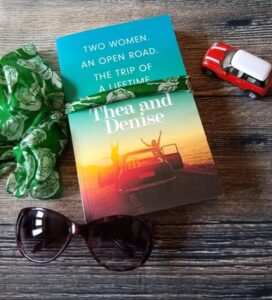 I read The Forgotten Sister by Caroline Bond three years ago. Ever since I've been meaning to read another of her books because I loved it so much but sadly I didn't get round to it until now, with Thea and Denise, and I'm kicking myself because this is an author who really is right up my street.
Thea and Denise. Think Thelma and Louise but considerably less dramatic or crime-ridden. Our eponymous heroines meet by chance and become friends, somewhat unlikely ones as Thea is quite glamorous and confident in comparison to Denise's more downtrodden demeanour. I think it's a case of right person and right time as each provides the other with the friendship they need at a difficult time in their lives.
I thought this was a brilliant book. The story goes along at a great pace and I was hooked right from the beginning. Part 1 sets the scene and brings the women together and then from Part 2 onwards it's a rollercoaster of events and emotions as Thea and Denise head off on an impromptu road trip together.
It's the ideal read for women of 40+, dealing with mid-life issues such as the impending menopause, relationships that have become stale and taken for granted, and maybe the prospect of having to start all over again. I found it uplifting, enriching and inspirational and I think that Caroline Bond is a fabulous writer tackling relatable family-led topics and doing it intuitively and incredibly well. I loved Thea and Denise and will try very hard not to leave it another three years before I read another book by this author.
---
---
Caroline Bond was born in Scarborough in 1964. After studying for a degree in English Literature at Lincoln College, Oxford she took a long break from education before completing an MA in Creative Writing at Leeds Trinity University.
In the interim, she combined a career in market research with raising three children with her husband, Chris. Having spent years researching TV drama she began script writing, for adults and children, which led onto fiction writing.
Caroline is a trained volunteer for Victim Support and is currently the Chair of Weekenders, a charity that runs youth schemes and social events for disabled children and teenagers.
She is a marathon runner.
THE SECOND CHILD, her debut novel, was published by Corvus in Spring 2018. Her second novel, THE FORGOTTEN SISTER, was also published by Corvus and was released in May 2019. THE LEGACY was published by Corvus in April 2021.
Caroline's next novel, THEA AND DENISE, will be published by Corvus in June 2022.