ShortBookandScribes #BookReview – The Woolworths Girl's Promise by Elaine Everest #BlogTour
The Woolworths Girl's Promise by Elaine Everest is published by Pan Macmillan and available now in paperback, eBook and audiobook. My thanks to Chloe Davies for the review copy and the place on the tour.
---

---
The Woolworth Girl's Promise is the heart warming eighth novel in Elaine Everest's bestselling Woolworths series that follows the turbulent life of a much-loved Woolworths girl.

After losing her beloved fiancé at Ypres in 1917, seventeen-year-old Elizabeth Billington faces a lonely future estranged from her upper-class parents due to her association with Charlie Sayers and his working-class family. No longer able to live under her parent's roof she is taken in by Charlie's father, escaping the suffocating demands of her parents.

Betty soon learns all too well about the realities of life after an accident at the Woolwich Arsenal munitions works. Spotting an advertisement for a nearby job at Woolworths, Betty starts on a new and thrilling journey starting at the bottom of the employment ladder in the well-known store.

Her work journey leads her to Ramsgate in Kent to work in a newly built store and with it the chance of marriage, but can she ever forget Charlie and the promise she made to him…?

Read this exciting early chapter in the life of well-known Betty Billington and follow her journey before she arrives at the Erith store and meets fellow Woolworths Girls in 1938 as war is again on the horizon . . .
---

---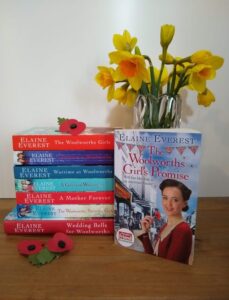 Regular readers of Elaine Everest's Woolworths series will recognise the protagonist at the heart of The Woolworths Girl's Promise, Miss Betty Billington. A prominent character throughout the series, this book focuses on her early life. We've always known about her lost love, Charlie, who was killed in action during WWI but this book now fills in all the gaps regarding what happened to Betty afterwards.
Don't worry if you haven't read any of the other books, as this one in particular works well as a standalone (it goes without saying that I heartily recommend reading all the books though!).
Betty wasn't always the down to earth Betty we know now. Once she was known as Elizabeth and lived with her upper-class parents, with the knowledge that they would never accept Charlie as her fiancé due to his working-class roots and his job on the railway. When they discovered their relationship, even after Charlie had died, they disowned Elizabeth and she found herself down on her luck, eventually taking a job at the beloved store, Woolworths. I loved following Betty's story, knowing where she would end up but not knowing her route there. Full of courage, ambition and pluck, she manages to work her way up with the help of good friends, old and new.
I loved this book so much, just as I've loved all of this author's books. She always seems to be able to portray hardship without taking it too far into darkness, using her research to transport the reader back in time. Betty has a tough time with some of the characters and a stint at the munitions factory proves particularly difficult for her, but it's balanced out by the kindness she receives when she needs it most. My favourite sections were set in the store and I loved reading about Betty's time on the different counters, but really I enjoyed all of it from beginning to end. Full of warmth, grit, comradeship, and hope for the future, The Woolworths Girl's Promise is a joy to read and a perfect addition to a series that I love by an author who never disappoints.
---

---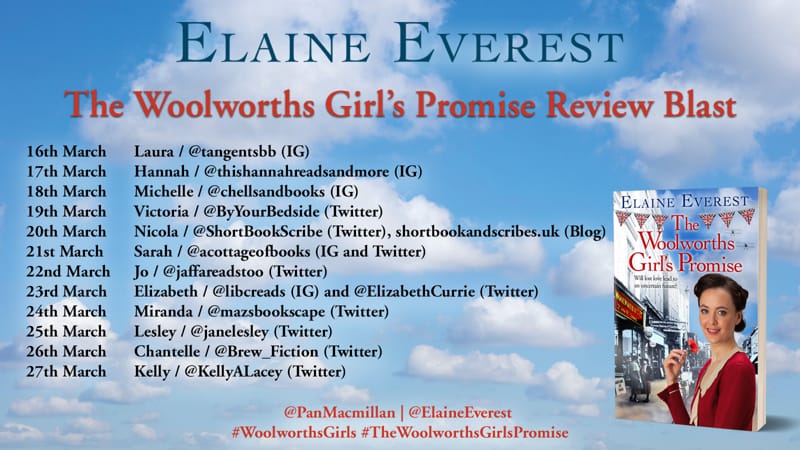 ---
---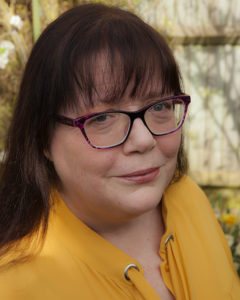 Elaine Everest, author of Sunday Times best selling series, The Woolworths Girls and The Teashop Girls, was born and brought up in North West Kent, where many of her books are set. She has been a freelance writer for twenty-seven years and has written widely for women's magazines and national newspapers, with both short stories and features. Her non-fiction books for dog owners have been very popular and led to broadcasting on radio about our four legged friends. Elaine has been heard discussing many topics on radio from canine subjects to living with a husband under her feet when redundancy loomed
She is represented by Caroline Sheldon Literary Agency and currently published by Pan Macmillan.
When she isn't writing, Elaine runs The Write Place creative writing school and has a long list of published students.
Elaine lives with her husband, Michael, and their Polish Lowland Sheepdog, Henry, in Swanley, Kent and is a member of the Romantic Novelists' Association, The Crime Writers Association, and the The Society of Women Writers & Journalists.
Follow:
Facebook: Elaine Everest Author page
Twitter: @elaineeverest
Website: www.elaineeverest.com