ShortBookandScribes #BookReview – The Windsor Knot by S.J. Bennett
My review today is of The Windsor Knot by S.J. Bennett, book one of the Her Majesty the Queen Investigates series. At the time of posting the paperback is only £2 and the eBook is £1.90 so you can grab yourself a bargain.
---

---
The morning after a dinner party at Windsor Castle, eighty-nine-year-old Queen Elizabeth is shocked to discover that one of her guests has been found murdered in his room, with a rope around his neck.

When the police begin to suspect her loyal servants, Her Majesty knows they are looking in the wrong place.

For the Queen has been living an extraordinary double life ever since her coronation. Away from the public eye, she has a brilliant knack for solving crimes.

With her household's happiness on the line, her secret must not get out. Can the Queen and her trusted secretary Rozie catch the killer, without getting caught themselves?

Miss Marple meets The Crown in The Windsor Knot, the first book in the 'Her Majesty The Queen Investigates' mystery series by SJ Bennett – for fans of The Thursday Murder Club by Richard Osman, Agatha Christie and M.C. Beaton's Agatha Raisin.
---

---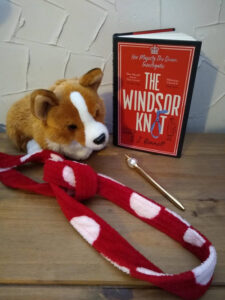 How could I resist a book where the Queen investigates a murder at Windsor Castle? I couldn't, is the answer.
The Windsor Knot is the first in a series and it's a genius premise for a book. We all know the Queen is stoical in her duties, fiercely intelligent and utterly diplomatic, so what if she put all the skills she has developed over her many years on the throne to good use investigating crimes within her midst? After hosting a dine and sleep at Windsor Castle a young musician is found dead in his room, a dressing gown cord around his neck. What seems at first like accidental death turns out to be murder. Although Her Majesty cannot exactly go around openly investigating, with the help of her Assistant Private Secretary, Rozie, she does some behind the scenes explorations into what might have happened to her guest.
This is such a lovely read. I suppose it might just fall into the cosy crime category, not a genre I tend to go for usually, but the royal slant makes it so intriguing and likeable. The author did a marvellous job portraying the Queen in fiction and I recognised all the traits for which she is most well-known. Her sidekick, Rozie, is fabulous too and quite happy to throw herself into whatever the Queen asks of her.
It's clear the author is a royalist and knows lots of facts about the Queen, her life, her family and her abodes. It felt very authentic and I never once thought it was far-fetched or unlikely. Who knows what the Queen gets up to in her spare time? I'd love to know what she thinks of this charming series of books! I'm really looking forward to book two now and to following this unlikely crime-fighting duo on their next adventure.
---
---
SJ Bennett wrote several award-winning books for teenagers before turning to adult mysteries. She lives in London and has been a royal watcher for years, but is keen to stress that these are works of fiction: the Queen, to the best of her knowledge, does not secretly solve crimes.
You can find her at SJBennettBooks.com for all things crime and royal, on Instagram @sophiabennett_writer and on Twitter @sophiabennett.