ShortBookandScribes #BookReview – The Whole Truth by Cara Hunter #BlogTour
It's my stop on the blog tour for The Whole Truth by Cara Hunter. I absolutely love this series and this latest instalment is just brilliant. My thanks to Ellie Hudson from Viking Books for the proof copy for review purposes and the place on the tour.
---

---
She has everything at stake; he has everything to lose. But one of them is lying, all the same.

When an Oxford student accuses one of the university's professors of sexual assault, DI Adam Fawley's team think they've heard it all before. But they couldn't be more wrong.

Because this time, the predator is a woman and the shining star of the department, and the student a six-foot male rugby player.

Soon DI Fawley and his team are up against the clock to figure out the truth. What they don't realise is that someone is watching.

And they have a plan to put Fawley out of action for good…
---

---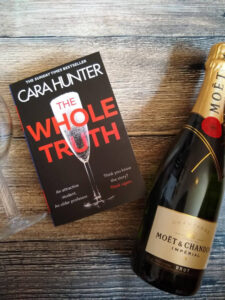 A return to the DI Adam Fawley series is always a treat for me. This is the 5th instalment and they can be read as standalone stories but it's good to follow the characters through each book.
There are a few things that I'm always pleased to see in Cara Hunter's books. First of all, there are no chapters, just lots of short scenes, which keeps up the momentum so well. The TV rights have been sold and this series will translate so well onto the screen. Secondly, I love the varied formats made up of interviews, podcast transcriptions, newspaper, social media etc and which are slotted to great effect into the narrative. Thirdly, the little who's who at the start is so handy and I used it several times. All series should have one of these. I have, after all, had a sleep since I read the last book.
So to the story itself. The team are called upon to investigate a sexual assault between a female university professor and her male student but the tables are turned and this time it's the woman who is the aggressor. Maybe there is more to it than meets the eye but that is what Fawley's officers need to find out. However, there's another storyline that comes along and threatens everything that Fawley has. I'm keeping schtum about that but what was really nice was how the team stood by him, even (mostly) newly demoted and very cocky DC Gareth Quinn.
The Whole Truth is a book that I found very hard to put down. It's so fast-paced and exciting. I like Adam as much as his team do and I was thoroughly engrossed with what was happening to him, alongside the other ongoing investigation, and also with what was happening at home. It's a very twisty read, with the past coming back to haunt him. It was absolutely fascinating to see the team's enquiries come to fruition and some good old fashioned detective work going on.
This is a police procedural and some in the genre can be a bit dull for my liking. Not here, as Hunter's clever blend of intriguing and authentic characters and a truly thrilling plotline make this such a gripping read. Roll on book 6.
---

---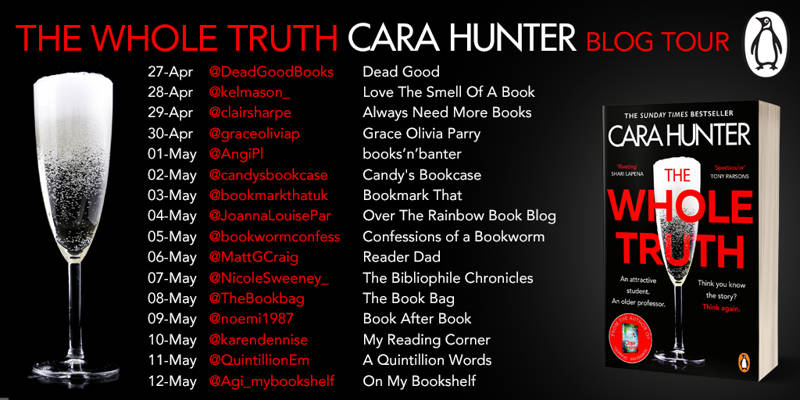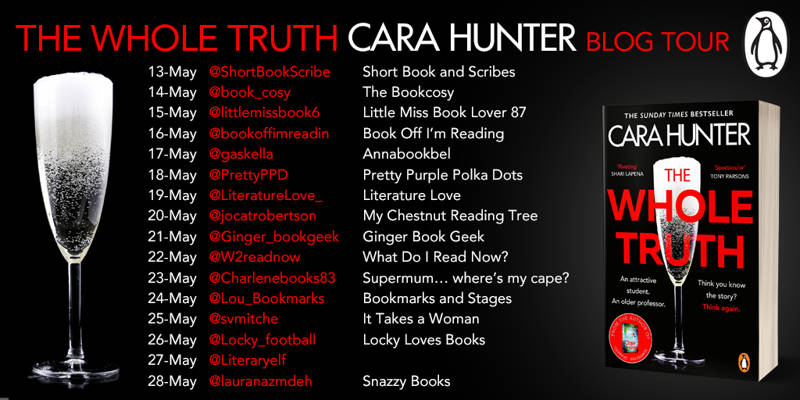 ---
---
Cara Hunter is the author of the Sunday Times bestselling crime novels Close to Home, In the Dark, No Way Out and All the Rage, all featuring DI Adam Fawley and his Oxford-based police team. Close to Home was a Richard and Judy Book Club pick and was shortlisted for Crime Book of the Year in the British Book Awards 2019. No Way Out was selected by the Sunday Times as one of the 100 best crime novels since 1945. Cara's novels have sold more than a million copies worldwide, and the TV rights to the series have now been acquired by the Fremantle group. She lives in Oxford, on a street not unlike those featured in her books.