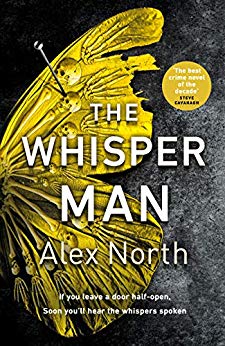 ShortBookandScribes #BookReview – The Whisper Man by Alex North @writer_north @MichaelJBooks #BlogTour
Welcome to my stop on the monster blog tour for The Whisper Man by Alex North. My thanks to Jenny Platt from Michael Joseph for the place on the tour and for sending a proof copy of the book for review purposes.
---
If you leave a door half-open, soon you'll hear the whispers spoken . . .

Still devastated after the loss of his wife, Tom Kennedy and his young son Jake move to the sleepy village of Featherbank, looking for a much-needed fresh start.

But Featherbank has a dark past. Fifteen years ago, a twisted serial killer abducted and murdered five young boys.

Until he was finally caught, the killer was known as 'The Whisper Man'.

Of course, an old crime need not trouble Tom and Jake as they try to settle in to their new home.

Except that now another boy has gone missing. And then Jake begins acting strangely.

He says he hears a whispering at his window . . .
---

The Whisper Man is one of the big hitters of 2019 and rightly so. It's a cracking good crime thriller.
Tom Kennedy is a recent widower. He's struggling with his 7 year old son, Jake. His wife always said they were too alike and maybe that's why Tom can't get through to Jake. He decides a fresh start in a new house and a new village is what's needed and they move to a house known locally as 'the scary house'. Hmmm, perhaps warning bells ought to have sounded!
This is a village where 15 years ago a serial killer stalked young boys. He was known as The Whisper Man. All well and good except it's happening again and now Jake is hearing whispers himself.
Ooh-er! I think I was expecting something a bit more supernatural with this book and whilst there is a little of that, it's much more of a crime thriller. We hear from Tom and Jake, but also from a police officer, DI Pete Willis, who was involved with the original case and who is now called upon to help with what is happening currently. This enables us to see matters unfold from different directions: from the viewpoint of a father who is already struggling and who is now fearing for his son's safety; and from the viewpoint of a man who thought the nightmare was over, although he's never been able to put it completely behind him, and who now realises the threat is back.
The whole Whisper Man thing is very creepy and the idea of a predator like that being at large is pretty scary. I have to say that I didn't find the story as scary as I expected, but I did find it compelling reading. There's a theme of fathers and sons running through it and how the relationships between them can affect them. I thought this was really cleverly executed.
I really liked Tom. He's written in a very sympathetic way and his grief is palpable. I loved Jake too, with his very grown up way of speaking and quiet manner. All the characters are very well drawn in fact.
The Whisper Man is a gripping story. I was very impressed by the way various strands of the story that I didn't even realise existed were then brought together. There were quite a few 'ohhhh' moments for me, ones I didn't see coming. It's a brilliant read.
---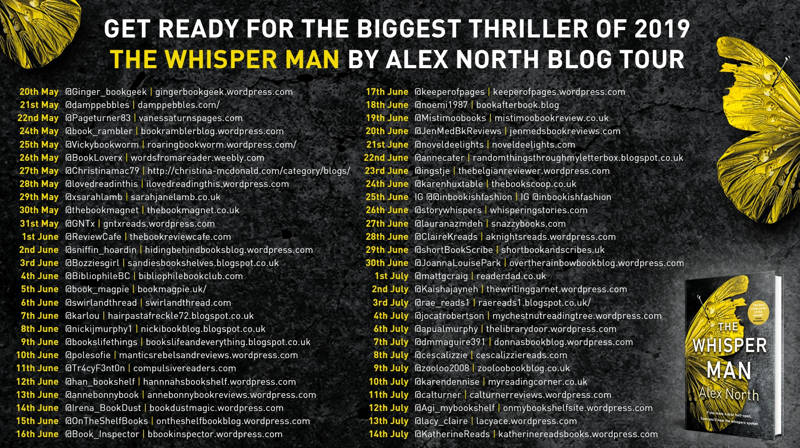 ---

Alex North was born in Leeds, where he now lives with his wife and son. He studied Philosophy at Leeds University, and prior to becoming a writer he worked there in their sociology department.