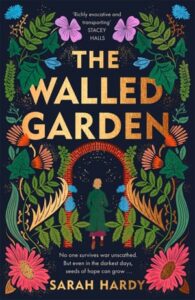 ShortBookandScribes #BookReview – The Walled Garden by Sarah Hardy
The Walled Garden by Sarah Hardy was published on 16th March by Manilla Press in hardcover, eBook and audiobook. My thanks to Clare Kelly for my gorgeous review copy.
---

---
A luminous debut novel about love, the trauma of war and the miracle of human resilience, for readers of Anna Hope, Sadie Jones and Elizabeth Jane Howard.

No one survives war unscathed. But even in the darkest days, seeds of hope can grow.

It is 1946 and in the village of Oakbourne the men are home from the war. Their bodies are healing but their psychological wounds run deep. Everyone is scarred – those who fought and those left behind.

Alice Rayne is married to Stephen, heir to crumbling Oakbourne Hall. Once a sweet, gentle man, he has returned a bitter and angry stranger, destroyed by what he has seen and done, tormented by secrets Alice can only guess at.

Lonely and increasingly afraid of the man her husband has become, Alice must try to pick up the pieces of her marriage and save Oakbourne Hall from total collapse. She begins with the walled garden and, as it starts to bear fruit, she finds herself drawn into a new, forbidden love.

Set in the Suffolk countryside as it moves from winter to spring, The Walled Garden is a captivating love story and a timeless, moving exploration of trauma and the miracle of human resilience.
---

---
It's 1946 and Stephen Rayne has returned home from the war a broken man, unable to forget what he experienced and the part he played. His wife, Alice, having expected the husband she remembered, is shocked and often frightened by his anger and bewildered by his complete indifference to her and to everyone and everything around him. Stephen is the heir of the Oakbourne estate including the hall which is literally falling apart. I thought it was an interesting perspective having Stephen as somebody whom the people of the local village were supposed to look up to when he couldn't bear the sight of anyone, least of all himself.
The Walled Garden is a beautifully written, at times heartbreaking, novel. It asks how any man can see the horrors of war and then return to everyday life, not only because those horrors replay over and over, but also because the feeling of being needed is suddenly taken away from them. But equally, the women of this book feel similarly about their war, in which they weren't simply required to look after the home but found a new purpose in life, albeit temporarily.
Alice finds comfort in the rebuilding of the estate's walled garden and in the company of another man who provides salvation in more ways than one. I really liked her character and her love for the outdoors, with the possibility of new growth giving her hope for the future.
This is not a fast-paced read, but it is one that must be savoured. I found myself drawn in to the characters' lives, not just Stephen and Alice, but the parallel stories of Jonathan and Jane Downes, also struggling with the aftermath of war, him the local doctor and her, once required to plug the gap her husband left, now relegated back to cooking, cleaning and mending once again.
The Walled Garden is a thought-provoking and powerful look at the futility of war and the difficulties of dealing with the mental and physical after-effects. I found it to be a compelling and moving read, with much to think about. It's a wonderful debut from Sarah Hardy.
---
---