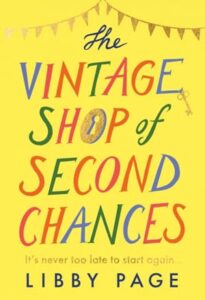 ShortBookandScribes #BookReview – The Vintage Shop of Second Chances by Libby Page
The Vintage Shop of Second Chances by Libby Page will be published by Orion in hardcover, eBook and audiobook on 16th February. My thanks to Virginia Woolstencroft for the proof package.
---

---
Among the cobbled streets of the Somerset town of Frome, Lou is embarking on the start of something new. After the death of her beloved mother, she takes a deep breath into the unknown and is opening her own vintage clothes shop.

In upstate New York, Donna has just found out some news about her family which has called into question her whole upbringing. The only clue she has to unlock her past is a picture of a yellow dress, and the fact it is currently on display in a shop in England.

For Maggy, she is facing life as a 70-something divorcee and while she got the house, she's not sure what to fill it with now her family have moved out. The new vintage shop in town sparks memories of her past and reignites a passion she's been missing…

Together, can these three women find the answers they are searching for and unlock a second chance at a new life?

It's never too late to start again…
---
---
I've loved all of Libby Page's previous books but I think she has excelled herself with The Vintage Shop of Second Chances and this is my favourite of them all.
Lou has returned to her home town of Frome in Somerset. At first it was to look after her ill mother but now she's decided to stay and has opened a vintage clothing shop. She's lonely though and a chance meeting with Maggy gives her the opportunity of a new friendship. Maggy is embarking on life as a divorcee after 50 years and feels a bit directionless. The other main character is Donna, a New Yorker who finds she has a link to a yellow dress that is displayed in Lou's shop.
Libby Page writes female friendships so well and the three women do become firm friends. This is such an uplifting book, full of joy and comradeship. From the moment I started reading I was completely hooked. It's such an easy book to read and enjoy and yet there's plenty of depth in the characters' personal situations. How do you start again at 70? How do you return to your childhood home town and deal with life on your own? How do you cope when everything you thought you knew is thrown up in the air?
I follow Libby Page on social media and recognise so much that she writes about in the pages of this novel. Her love of vintage fashion and Frome absolutely shines through and I was totally sold on the beauties of the town. I don't know anything about vintage clothing but each piece was brought to life and my imagination was captured by the shop and all the items in it.
I adored The Vintage Shop of Second Chances. The characters are all so lovely and the plot (not just the friendship between the three women but what actually brings them together) is utterly charming. This book is like a ray of sunshine – glorious, cheering and enriching. I loved it.
---

---
Libby Page is the Sunday Times bestselling author of The Lido and The 24-Hour Café. The Island Home is her third novel. Before becoming an author, she worked in journalism and marketing. She is a keen outdoor swimmer and lives in Somerset with her husband and young son. Follow Libby on Twitter, Instagram and Facebook: @libbypagewrites.