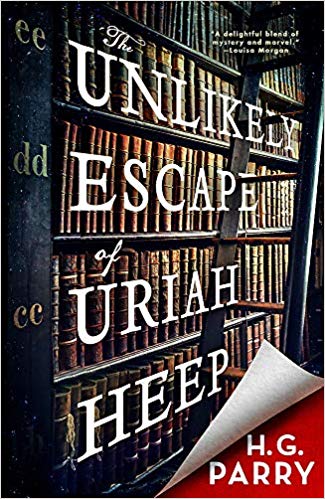 ShortBookandScribes #BookReview – The Unlikely Escape of Uriah Heep by H G Parry @OrbitBooks #BlogTour
Welcome to my stop on the blog tour for this unusual and innovative book. My thanks to Orbit Books for the proof copy of the book for review purposes and to Tracy Fenton of Compulsive Readers for the place on the tour.
---

For his entire life, Charley Sutherland has concealed a magical ability he can't quite control: he can bring characters from books into the real world. His older brother, Rob – a young lawyer with an utterly normal life – hopes that this strange family secret will disappear with disuse, and he will be discharged from his duty of protecting Charley and the real world from each other.

But then, literary characters start causing trouble in their city, making threats about destroying the world, and for once, it isn't Charley's doing. There's someone else out there who shares his powers and it's up to Charley and a reluctant Rob to stop them – before anyone gets to The End.
---
I was drawn to this book by the obvious similarities to the Thursday Next books by Jasper Fforde. Admittedly it's a long time since I read any of those books but I just loved the idea of fictional characters jumping out of books and wreaking havoc on all around them.
I have to be honest and say that despite the fact I enjoyed the Next books, this genre is still out of my comfort zone. However, I did think The Unlikely Escape of Uriah Heep was an entertaining romp through so many well known books and that was a hugely appealing concept for me.
Rob is a lawyer, a completely ordinary man really, apart from his younger brother, Dr Charley Sutherland who, since he was a young boy, has been able to read characters out of books. As the book begins Rob is called on to help capture the escaped Uriah Heep from David Copperfield and pop him back into the book. All well and good but then more and more fictional characters invade the real world and cause all sorts of trouble.
H G Parry clearly has a fantastic imagination and has created a most thrilling world for her characters. The people who read them out of the books bring them forth with their own slant on them, for instance, one person's Darcy might not be the next person's idea of them, and so there's some fun to be had there as some of the characters mutate into exaggerated versions of themselves.
I found myself smiling quite a lot at the turns the plot took, the comments the characters made and the whole fantasy world they live in right in the middle of reality. If you've ever wanted to dive into a book yourself and prefer the thought of a fictional world to the one we live in then look no further than this clever and innovative story.
---

---

H. G. Parry lives in a book-infested flat in Wellington, New Zealand, which she shares with her sister and two overactive rabbits. She holds a PhD in English literature from Victoria University of Wellington, and teaches English, film and media studies. Her short fiction has appeared in InterGalactic Medicine Show, Daily Science Fiction and small press anthologies. The Unlikely Escape of Uriah Heep is her debut novel.