ShortBookandScribes #BookReview – The Unbroken Beauty of Rosalind Bone by Alex McCarthy
The Unbroken Beauty of Rosalind Bone by Alex McCarthy will be published by Doubleday on 15th June in hardcover, ebook and audiobook. My thanks to Izzie Ghaffari-Parker for the proof copy.
---

---
Tucked into the Welsh valleys and encircled by silver birch and pine, the village of Cwmcysgod may appear a quiet, sleepy sort of place. But beneath the surface, tensions simmer, hearts ache, and painful truths threaten to emerge.

Sixteen-year-old Catrin Bone knows only what she has been told. Now, she is beginning to question her small world, and a version of the past that seems to entrap and embitter her reclusive mother, Mary.

Mary had a sister once, a girl of unparalleled beauty. Why did she disappear from the village in a shroud of shame all those years ago – and where is she now?

Meanwhile the Clements brothers, skint and all out of hope, run rampant across the hills and lanes. And old Dai Bevel, whose frailty masks a dark history, dreams of a girl he used to know…

The sins of the past are approaching, for it takes a village: to raise a child, to bring down a woman, to hide something monstrous and to look the other way.

In this tender, sly, exquisitely wrought novella, a unique cast of characters give voice to their versions of the truth. But it is the story of Rosalind Bone, of her strength and of all that she has endured, that rises above the rest, shimmering with hope and possibility…
---

---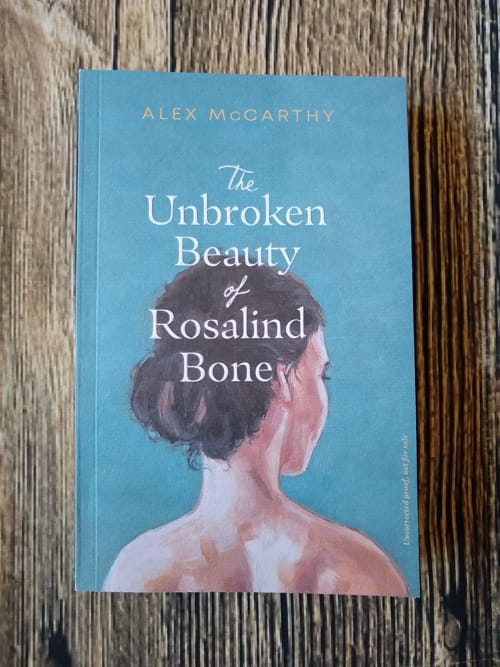 The Unbroken Beauty of Rosalind Bone tells the story of a small village and the secrets of the people who live within it. Cwmcysgod is located in the Welsh valleys and the story is set in 2001. It begins with the tearaway Clements brothers setting fires that lead to consequences not just for them but for all those surrounding them.
Rosalind Bone was a true beauty, desired by every man who saw her, but her beauty was a curse. She went missing years earlier leaving behind her sister, Mary, who went on to have a daughter, Catrin, who is entranced by the one photo that exists of Rosalind. The family mystery about what happened to her aunt is so intriguing for her.
There are some really fascinating characters in this book, ones who shape the story and bring the village to life. There's the local shopkeeper, Mrs Williams, who sees everything that happens, Dai Bevel, a village stalwart with lots to hide, and Mary herself, who never leaves the house and who dwells on the past.
This novella reminded me of Claire Keegan's writing, a sparsity to the style that tells the reader so much without being obvious about it. There's a lot of darkness in the story that became gradually clear to me as I read between the lines and then later, when all was fully revealed it proved the plot to be a clever one with an intensity to the storyline and a melancholy feel to it. The writing is accomplished, compelling and vivid, and when coupled with the strongly-drawn characterisations it makes for an impressive debut from Alex McCarthy.
---
---
Alex McCarthy was born in Cardiff and grew up in South Wales. An alumna of London Contemporary Dance School, she worked as a dancer and choreographer for a number of years on stage, TV and film. In 2017, following a career change and several years of writing, Alex began to write this novel. She has a daughter and stepdaughter, and lives in Wales.