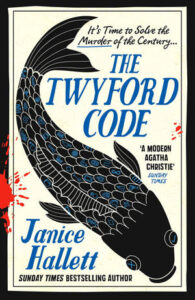 ShortBookandScribes #BookReview – The Twyford Code by Janice Hallett
I'm here with my thoughts about another big January 2022 publication, The Twyford Code by Janice Hallett. This is just as clever and original as The Appeal. My thanks to the team at Viper for the proof copy and my fortune telling miracle fish! It will be published in hardcover, eBook and audiobook on 13th January.
---

---
It's time to solve the murder of the century…

Forty years ago, Steven Smith found a copy of a famous children's book by disgraced author Edith Twyford, its margins full of strange markings and annotations. Wanting to know more, he took it to his English teacher Miss Iles, not realising the chain of events that he was setting in motion. Miss Iles became convinced that the book was the key to solving a puzzle, and that a message in secret code ran through all Twyford's novels. Then Miss Iles disappeared on a class field trip, and Steven has no memory of what happened to her.

Now, out of prison after a long stretch, Steven decides to investigate the mystery that has haunted him for decades. Was Miss Iles murdered? Was she deluded? Or was she right about the code? And is it still in use today?

Desperate to recover his memories and find out what really happened to Miss Iles, Steven revisits the people and places of his childhood. But it soon becomes clear that Edith Twyford wasn't just a writer of forgotten children's stories. The Twyford Code has great power, and he isn't the only one trying to solve it…

Perfect for fans of Richard Osman, Alex Pavesi and S.J. Bennett, The Twyford Code will keep you up puzzling late into the night.
---

---
Janice Hallett's first novel, The Appeal, was an innovative murder mystery story told in emails and messages. With The Twyford Code, she has established herself as the master of the inventive and original read with another tale told in an unusual format, this time through audio files left by Steven Smith on his son's old iPhone, and the delivery of the files to a professor for analysis and interpretation.
Steven records his memories of finding a book by Edith Twyford when he was at school 40 years earlier, a discovery that appeared to lead to his favourite teacher, Miss Iles, disappearing. Twyford is clearly Blyton-esque, a beloved children's author from the 1930s and 40s whose prose has fallen out of fashion. Steven has always wondered what happened to Miss Iles and his quest to find out leads him to look for a secret code in the Twyford books.
I don't know how Hallett does it but she pulls together the most intricate and cunning storyline to perfection. It's complex yet accessible, a deep dive into a coded past with long-reaching tentacles into the present day. I was engrossed as Steven recorded everything that was happening to him alongside his own childhood story and events that led eventually to a long prison sentence.
I was in awe of the incredibly clever conclusion which only started to dawn on me as it happened and so was almost totally unexpected. This story is not only an intelligent and skilful code-breaking adventure, it also considers family and the effects of what happens in childhood upon the adult we become. The Twyford Code is another triumph from Janice Hallett which thrilled and delighted me.
---
---
Janice Hallett is a former magazine editor, award-winning journalist and government communications writer. She wrote articles and speeches for, among others, the Cabinet Office, Home Office and Department for International Development. Her enthusiasm for travel has taken her around the world several times, from Madagascar to the Galapagos, Guatemala to Zimbabwe, Japan, Russia and South Korea. A playwright and screenwriter, she penned the feminist Shakespearean stage comedy NetherBard and co-wrote the feature film Retreat, a psychological thriller starring Cillian Murphy, Thandiwe Newton and Jamie Bell. The Appeal was her first novel.