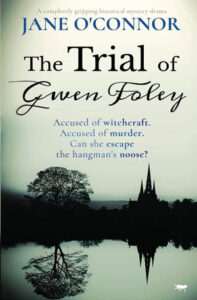 ShortBookandScribes #BookReview – The Trial of Gwen Foley by Jane O'Connor
Today I'm sharing my thoughts about The Trial of Gwen Foley by Jane O'Connor. My thanks to the author for sending me a copy of the book for review purposes. It's published by Bloodhound Books and is available now in eBook and paperback.
---

---
A woman accused of witchcraft and murder will need the help of a sleuthing magistrate's wife is she is to escape the hangman's noose . . .

Lichfield, England, 1723: Hester Albright, the wife of an acting magistrate, is fighting for a cause. Sickened by the hanging of a woman who had been brutalized by her husband, and still deeply affected by her own childhood experiences, Hester now feels compelled to help women who face the death penalty, and seeks justice along with the Lunar Society.

When Hester's husband is summoned to the scene of a murder, Hester accompanies him. They discover that the victim, Lady Aston, is clutching a witch's bottle. Lord Aston is convinced that Gwen Foley, a woman in the village, has murdered his wife. Gwen is branded as a witch and is dragged from her cottage to gaol to await trial. But Hester believes Gwen is innocent and promises to help. Is Gwen a witch and a murderer who deserves to hang? With the help of the Lunar Society, Hester is about to find out.
---

---
The Trial of Gwen Foley is not actually about the trial of Gwen Foley. In fact, it's about a group of people who try and ensure that Gwen gets a fair trial when it comes. The story is narrated by Hester Albright and the year is 1723 in Lichfield, Staffordshire. Hester is so affected by the hanging of a woman who killed her husband after years of ill-treatment that she is moved to set up the Lunar Society with her daughter, Amber, and some friends from the local bookshop to prevent the same fate happening to Gwen Foley.
Gwen is a local woman who is believed by many to be a witch because of her unusual appearance and because disastrous events coincided with her arrival in the village. She is accused of a shocking murder and Hester is determined to prove that she didn't do it.
This is a historical murder mystery with a sub-plot of witchcraft and what I particularly enjoyed about it was that it felt authentic without becoming bogged down in too much detail that sometimes, for me, feels too heavy in historical fiction. Jane O'Connor is a skilled writer and has written a story that kept my interest, in fact I became more interested the more I read. The settings felt real and there's a gritty yet sympathetic portrayal of what women faced 300 years ago, whilst celebrating those women who were able to forge ahead and be unafraid.
I admired Hester and her fearlessness and strength in trying to find out who did commit the murder. Amber, her daughter, is another wonderful character. She's assistant to the surgeon and dresses like a man. She's fiercely clever and independent in a time when women were supposed to stay at home and be quiet. I can imagine that there might be more miscarriages of justice for the Lunar Society to solve in the future.
I found The Trial of Gwen Foley to be a well-written and interesting story challenging women's roles in the 18th century, and illustrating the lingering spectre of witchcraft.
---
---
Jane O'Connor is a writer and academic based in the West Midlands, UK. Her debut novel 'Needlemouse' was runner up in the Tibor Jones pageturner prize. Her short stories have been published in national magazines and she was the winner of the 2020 Hysteria short story competition. Jane's latest novel 'The Trial of Gwen Foley' is set in eighteenth century Lichfield and features two of her greatest interests – bookshops and the history of witchcraft. Jane lives in Birmingham with her husband, two boys and two cats.