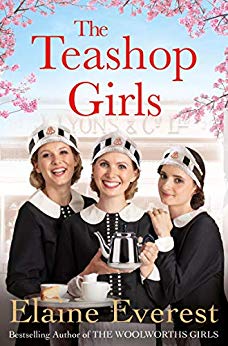 ShortBookandScribes #BookReview – The Teashop Girls by Elaine Everest @ElaineEverest @panmacmillan @ed_pr #BlogTour
I'm so pleased to be finally reading and reviewing an Elaine Everest book. I've been on the blog tours for a couple of her Woolworths series but I like to start reading from the beginning of a series wherever possible, so didn't read the books. When I heard about The Teashop Girls I jumped at the chance of reading it. Of course, I'm kicking myself for not having got round to the Woolworths books yet.
My thanks to the team at ed Public Relations for asking me to be a part of the tour and to Pan Macmillan for sending me a copy of the book for review purposes.
---
The Teashop Girls is a warm and moving tale of friendship and love in wartime, by the bestselling author of the Woolworths series, Elaine Everest.

It is early 1940 and World War Two has already taken a hold on the country. Rose Neville works as a Lyon's Teashop Nippy on the Kent coast alongside her childhood friends, the ambitious Lily and Katie, whose fiancé is about to be posted overseas in the navy. As war creates havoc in Europe, Rose relies on the close friendship of her friends and her family.

When Capt. Benjamin Hargreaves enters the teashop one day, Rose is immediately drawn to him. But as Lyon's forbids courting between staff and customers, she tries to put the handsome officer out of her mind.

In increasingly dark and dangerous times, Rose fears there may not be time to waste. But is the dashing captain what he seems?

The Teashop Girls is the new book by Elaine Everest, much-loved author of the Woolworths Girls series.
Available on Amazon
---

Elaine Everest is someone that I think of as being a top saga writer and yet this is the first of her books that I have read. Shocking, I know!
We follow three young women: Rose, Lily and Katie. They all work in the Lyons teashop in Ramsgate. Having been friends since they were children, it's also lovely that their friendship has continued into adulthood. The story is set in 1940 and the war is just about to step up a gear from the so-called phoney war into something much more serious.
Yes, this is the story of three friends but it's very much Rose who is the central character. Everybody and everything revolves around her and she's a really lovely person. She harbours dreams of being a singer but is also very happy working as a Nippy. She meets a man one evening when she is singing and she finds herself unable to forget him. Nothing is quite straightforward though, as you would expect, and I wouldn't want it any other way as the best sagas have to have some upset and conflict before reaching a (hopefully) happy conclusion.
I absolutely loved The Teashop Girls. I particularly loved all the detail about working in the teashops, the Nippies and the Sallies, the way they were run. I think the author has done a lot of research and probably enjoyed doing so very much. I also enjoyed the romance between Rose and Captain Hargreaves which I thought was beautifully written.
This is a gorgeous story of love, friendship and solidarity during wartime. Along with the characters I have already mentioned, there were a number of delightful supporting characters. I thought Mildred Dalrymple, in particular, was fantastic. She's a strong woman, off out on her fishing boat, getting jobs done and not caring what people think of her.
As I say, there are lots of ups and downs for the characters but this is ultimately a feel-good, completely heart-warming story. I don't know whether this is a standalone book or part of a new series, but either way I shall look forward to reading more of Elaine Everest's books in the future.
---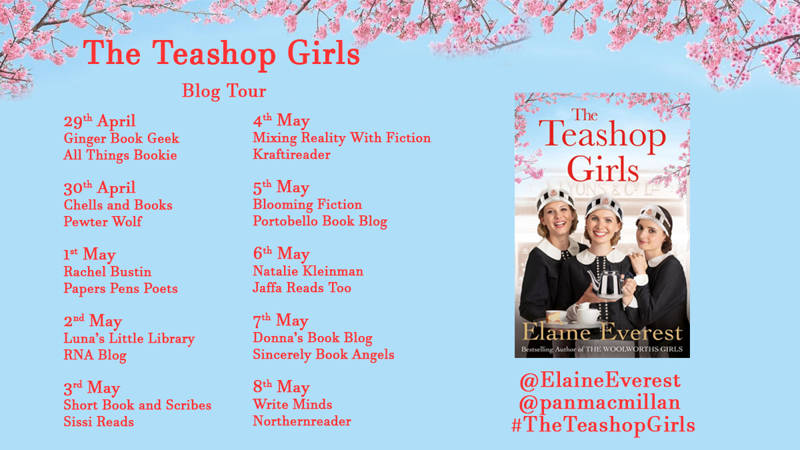 ---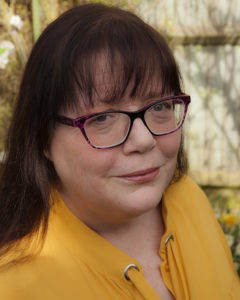 Elaine Everest, author of bestselling novels The Woolworths Girls, The Butlins Girls, Christmas at Woolworths, and Wartime at Woolworths was born and brought up in North West Kent, where many of her books are set. She has been a freelance writer for twenty-two years and has written widely for women's magazines and national newspapers, with both short stories and features. Her non-fiction books for dog owners have been very popular and led to broadcasting on radio about our four legged friends. Elaine has been heard discussing many topics on radio from canine subjects to living with a husband under her feet when redundancy looms.
When she isn't writing, Elaine runs The Write Place creative writing school at The Howard Venue in Hextable, Kent and has a long list of published students. Elaine lives with her husband, Michael, and their Polish Lowland Sheepdog, Henry, in Swanley, Kent and is a member of the Romantic Novelists' Association, The Crime Writers Association, The Society of Women Writers & Journalists and The Society of Authors.