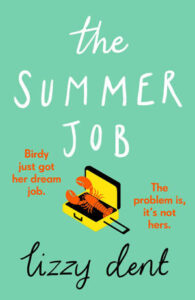 ShortBookandScribes #BookReview – The Summer Job by Lizzy Dent
Today I'm sharing my thoughts about The Summer Job by Lizzy Dent which is set to be one of Viking's hottest releases this year. It's a fabulous read. My thanks to Ellie Hudson for sending me a proof copy of the book for review purposes together with a lobster reading companion.
---

---
Have you ever imagined running away from your life?

Well Birdy Finch didn't just imagine it. She did it. Which might've been an error. And the life she's run into? Her best friend, Heather's.

The only problem is, she hasn't told Heather. Actually there are a few other problems…

Can Birdy carry off a summer at a luxury Scottish hotel pretending to be her best friend (who incidentally is a world-class wine expert)?

And can she stop herself from falling for the first man she's ever actually liked (but who thinks she's someone else)

The Summer Job is a fresh, fun, feel-good romcom for fans of The Flatshare, Bridget Jones and Bridesmaids.

WANT TO ESCAPE REAL LIFE FOR A WHILE? RUN AWAY WITH BIRDY FINCH, A MESSY HEROINE WITH A HEART OF GOLD. THE SUMMER JOB IS THE HOTTEST DEBUT TO LOSE YOURSELF IN THIS YEAR.
---

---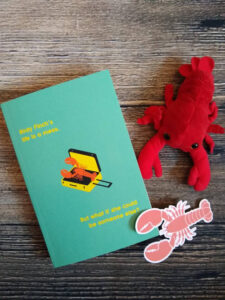 'The hottest new debut of 2021'? Yes, I think The Summer Job might be just that. It's romantic fiction at its very best.
Elizabeth Finch, known as Birdy to….well everyone, is a chaotic character, drifting from dead-end job to dead-end boyfriend and back round again. Her best friend, Heather, has her life rather more together but when Heather decides against going through with the job that she's taken, Birdy ends up taking her place which seems like a great idea as she needs somewhere to stay this summer. Shame she didn't bother to tell Heather.
I couldn't help but like Birdy even though I know she would drive me mad if she was my friend. She does go on quite a journey of discovery over the summer and learns a lot about the effect her past is having on her present and her possible future. She rocks up at Loch Dorn, what she expects to be a run-down hotel in the highlands, only to find it's had a makeover and is much more sophisticated than she thinks she can be. I absolutely adored the setting. The Scottish Highlands and Islands are some of my very favourite places to read about and Lizzy Dent portrays the stark beauty of the landscape perfectly.
I smiled a lot whilst reading The Summer Job as Birdy is very funny, but I also hoped that she could get through the summer without too many problems. She meets Jamie, the chef at Loch Dorn, and there's a distinct frisson between them but how can she embark on a fling or maybe a relationship knowing she's lying to him about who she really is?
Well, to find out if it does all work out for Birdy you'll have to read it for yourself. I can tell you that if you do you will have a wonderful time careering along next to Birdy as she tries to dig herself out of numerous holes, you'll root for her as you get an inkling of what she could achieve, and you'll enjoy a trip around some of the most picturesque and beautifully described scenery around. Buckle up, you're in for quite the ride with Birdy!
---
---
Lizzy Dent (mis)spent her early twenties working in Scotland in hospitality, in a hotel not unlike the one in this novel. She somehow ended up in a glamorous job travelling the world creating content for various TV companies, including MTV, Channel 4, Cartoon Network, the BBC and ITV. But she always knew that writing was the thing she wanted to do, if only she could find the confidence. After publishing three young adult novels, she decided to write a novel that reflected the real women she knew, who don't always know where they're going in life, but who always have fun doing it. The Summer Job is that novel.