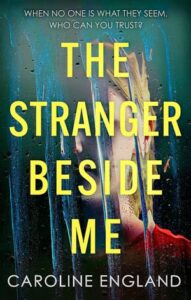 ShortBookandScribes #BookReview – The Stranger Beside Me by Caroline England #BlogTour
It's my stop on the blog tour for The Stranger Beside Me by Caroline England. Thank you to the publishers for sending me a copy of the book and Caroline for asking me to be a part of the tour. The Stranger Beside Me is published by Piatkus and available now in paperback and ebook.
---

---
When no one is what they seem, who can you trust?

Katy Henry is lost and lonely. A single mother, plagued by fatigue and anxiety, she rarely has time for friends. But when she encounters Sibeal Matthews, all this changes. Sibeal is everything that Katy is not: assured, headstrong and charming.

Katy soon finds herself pulled out of her isolation into a fierce friendship. But Sibeal is not all that she seems. Tragedy haunts her, and for all her feistiness, she is startlingly dependent on her brother, Gabriel. And when her life begins to spectacularly unravel, Katy is swept up in the storm.

As Katy fights to protect herself and her son, it's not just Sibeal who threatens to endanger them – Katy's own past starts to rupture. Who can Katy trust? Can she even trust herself?
---

---
The Stranger Beside Me is a book that kept me guessing all the way through. Who could I trust? Was [insert name of any of the characters] up to no good?
The story is about two women and told from their points of view. Katy Henry is struggling with life after a tragedy in her family. Sibeal Matthews is also living with a tragic past. The two women at first appear quite different with Katy coming across as meek and Sibeal as strong, but as I got to know them both I could see that each was capable of being the opposite. They're brought together by chance and an old family link, but end up becoming friends. As the story progresses their lives become ever more complicated.
It took me a little settling into the story and for the two women's narratives to become entwined but I was soon at a point where I was racing through the chapters, many of which were fairly short which helped to ramp up the tension. It's very much a character-driven tale, the backgrounds of all the main players being what propels the plot onwards, with their lives perched on foundations that become more and more unstable.
My favourite kind of psychological thrillers are those that are centred around everyday life and that's what I liked so much about The Stranger Beside Me, as well as the unexpected twists in the story and the excellent and engaging writing. I always enjoy Caroline England's writing and this one is no exception.
---

---
---
---
Caroline England was born and brought up in Yorkshire and studied Law at the University of Manchester. She was a divorce and professional indemnity lawyer before leaving the law to bring up her three daughters and turning her hand to writing. As well as The Sinner, Caroline is the author of The Wife's Secret, previously called Beneath the Skin, the top-ten ebook bestseller My Husband's Lies, Betray Her and Truth Games. She has also been shortlisted for a CWA Dagger for her short story Blindsided. She lives in Manchester with her family.
To find out more about Caroline, visit her website http://www.carolineenglandauthor.co.uk or follow her on social media:
Twitter: https://twitter.com/CazEngland
Facebook: http://www.facebook.com/CazEngland1
Instagram: http://www.instagram.com/cazengland1