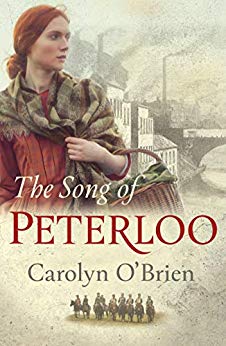 ShortBookandScribes #BookReview – The Song of Peterloo by Carolyn O'Brien @CarolynManc @legend_press #TheSongOfPeterloo
I'm so pleased to be reviewing The Song of Peterloo by Carolyn O'Brien today. It's a fascinating story of the Peterloo Massacre which took place in Manchester 200 years ago this month. My thanks to Lucy Chamberlain from Legend Press for the place on the tour and for sending a copy of the book for review purposes.
---
Manchester 1819: Prices are high and wages are low, but as the poor become poorer, the rich are alarmed by their calls for reform.

Mill-worker Nancy Kay struggles to support her ailing mother and sensitive son. Desperate to provide for them, she is inspired to join the growing agitation. But, as she risks everything to attend a great assembly on St Peter's Field, Nancy is unaware the day will go down in history, not as a triumph but as tragedy; the Peterloo massacre.

This is one woman's story of belief in change, pieced together by her family and friends and the two men who share her momentous summer. A story of hope, and sacrifice, and above all, courage.
---

I was really eager to read The Song of Peterloo. I'm not sure exactly what it was that drew me to it, whether it was simply that I enjoy historical fiction, or whether it was reading about a part of history that I knew nothing about, especially aound the 200th anniversary of the massacre at Peterloo. Either way, it was book that really appealed to me and I wasn't disappointed by what I read.
There are various viewpoints in the story but the main characters are Nancy Kay, a mill worker, and the new man in charge of the mill, Samson Wright. Unlike many employers of the time (1819) he is a kinder, more caring man, concerned with the welfare of his workers. On his very first day in reluctant charge, he meets Nancy, a fiery lass, and he is unable to forget the way she tried to stand up to her superiors after an accident at the mill. I liked both characters immensely and thought they were portrayed in a sympathetic and appealing way.
We also hear from Mary, Nancy's good friend from the mill, and Joseph Price, a young man who plays a part in Nancy's story too. After encountering Samson and all that he hopes to achieve, Nancy becomes interested in reform and social justice and this leads her to be at St Peter's Field on the fateful day, 16th August 1819, when unarmed and peaceful protestors were charged at by the Yeomanry.
There's quite a bit of build up before the massacre takes place and it really gave me both a sense of time and place, and also the chance to get to know the characters. As much as I loved Nancy and Samson, I really took a dislike to Adelaide, Samson's snooty aunt. I also really took a dislike to the way working classes were treated – not a surprise to me or anything that I didn't already know, but it struck me all over again reading The Song of Peterloo. It's a emotive tale of historical importance and definitely one for fans of historical fiction.
I do think this a book that should be taken slowly and savoured so as to immerse yourself in this specific time in history, the dialect, the living conditions and the complete contrast in class at the time. But it is one that is definitely worth reading for it is a very well-written tribute to the lives of those who were there that day.
---

---

Carolyn O'Brien was born in South Manchester, and lives in the nearby market town of Altrincham with her husband and two children. Carolyn works part-time as a consultant lawyer, as well as writing.