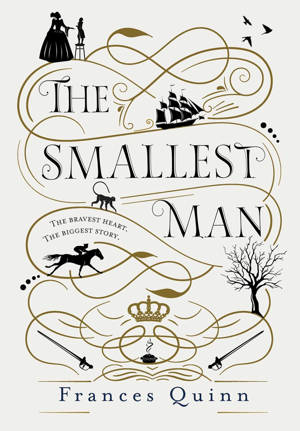 ShortBookandScribes #BookReview – The Smallest Man by Frances Quinn #RandomThingsTours #BlogTour
Welcome to my stop on the blog tour for this amazing read. My thanks to the publishers, Simon & Schuster, for the beautiful proof copy of the book, and to Anne Cater of Random Things Tours for the place on the tour. The Smallest Man will be published in hardback, ebook and audiobook on 7th January 2021.

---

---
The smallest man. The biggest heart. The mightiest story. A compelling story, perfect for fans of The Doll Factory and The Familiars.

Nat Davy longs to grow tall and strong and be like other boys, but at the age of ten, he's confronted with the truth; he's different, and the day when the stares and whispers stop is
never going to come.

Narrowly escaping life in a freak show, he's plucked from his family and presented as a gift to the new young queen of England – a human pet to add to her menagerie of dogs and monkeys. But when Nat realises she's as lost and lonely as he is, the two misfits begin an
unlikely friendship – one that takes him on an unforgettable journey, as England slides into the civil war that will tear it apart and ultimately lead the people to kill their king.

Inspired by a true story, and spanning two decades that changed England for ever, The Smallest Man is narrated by an irrepressible hero with his own unique perspective on life. His story is about being different, but not letting it hold you back. About being brave enough to take a chance, even if the odds aren't good. And about how, when everything else is falling apart, true friendship holds people together.
---

---
Roll up, roll up! Come and meet Nathaniel Davy, the Smallest Man in England.
If you want to become thoroughly engrossed in the story of a man who has led the most extraordinary life then look no further than The Smallest Man. Frances Quinn's debut novel is an absolute historical tour de force. Although fiction, it's based around the real life smallest man, Jeffrey Hudson. The author has done a wonderful job at weaving fact and fiction together.
Nat is only 10 when he is given as a gift for the new queen of England, Queen Henrietta Maria, wife of King Charles I. From a relatively happy home life with his family, he is thrust into court life and it's probably fair to say it's the making of him. He achieves much, things that he could never have imagined he would be able to do back home in Oakham, Rutland (ironically England's smallest county).
Nat is a fantastic character, one for the reader to really get behind and root for. Even when I was getting exasperated with him for one reason or another, I still adored him and found him incredibly likeable. I thought all the characterisations were written with a deft touch, bringing each and every one to life through conversation and adept descriptions.
For the historical fiction lover this is a must-read. This is not a period in history that I know a great deal about but I have learned so much from reading The Smallest Man. It's rich with detail about life at court, the war between the King and the Parliamentarians, and life for Nat as someone who is seen as a curiosity wherever he goes.
Frances Quinn's writing is sublime. I can't tell you how easy this book is to read. It flows perfectly and I just couldn't put it down. I found myself enthralled by the powerful scenes and the vivid settings, and utterly captivated by the book as a whole. I'm sad to leave Nat behind but feel enriched by having read his tale. As you might have guessed, this is a very special read and I absolutely loved it.
---

---
---
---
Frances Quinn read English at King's College, Cambridge, and is a journalist and copywriter. She has written for magazines including Prima, Good Housekeeping, She, Woman's Weekly and Ideal Home. She lives in Brighton with her husband and who Tonkinese cats. The Smallest Man is her first novel.