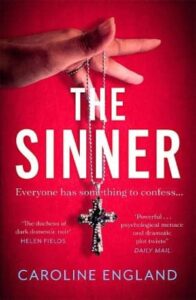 ShortBookandScribes #BookReview – The Sinner by Caroline England #BlogTour
It's my stop on the blog tour for The Sinner by Caroline England. My thanks to Caroline for asking me to be a part of it and to Piatkus for the review copy of the book. The Sinner is out now in paperback and eBook.
---

---
EVERY SAINT HAS A PAST

To the unsuspecting eye Dee Stephens has a perfect life as the vicar's wife: a devoted marriage to her charismatic husband Reverend Vincent, an adoring congregation and a beautiful daughter.

EVERY SINNER HAS A FUTURE

But beneath the surface, Dee is suffocating. Vincent is in control, and he knows her every sin. Desperate, Dee escapes into a heady affair with Cal, an old schoolmate.

EVERY CONFESSION HAS A PRICE

But is Cal the saviour she thinks he is? What dark secrets does he harbour? And to what lengths will Vincent go to when he uncovers the truth?
---

---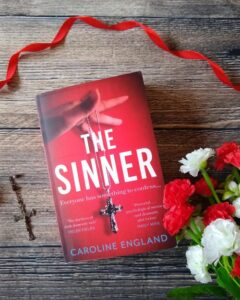 Dee Stephens is the vicar's wife. She's married to Vincent and they have a teenage daughter, Abbey. To all intents and purposes her life is good but behind the façade Dee is unhappy. A chance meeting with Cal, who remembers Dee from school, sets in motion a passionate affair. Dee narrates her own strands of the story and we also hear from her sister, Mari, and Cal, both in the third person.
What I really enjoy about Caroline England's writing is the way she gets to the heart of human emotions, human desires, and complicated and intricate family dynamics. Whilst Dee feels she should be grateful for what she has got, she is unfulfilled and stifled, not only by Vincent but by her mother-in-law, Harriet, and even by Abbey, who adores her father to the detriment of her mother. These tangled relationships make for a brilliant and twisty read.
I'd call The Sinner a cross between a psychological thriller and a domestic noir, with more emphasis on the latter. I do love a good domestic noir and England really excels at them. There are several unexpected developments in this story, especially in the second half, and they really did take me by surprise, settled as I was into the complex and messy lives of Dee and Mari. The reason for Mari's presence in the story didn't really become clear until much later but I enjoyed her strand in its own right and even more so when everything slotted into place.
I really liked how the author wove the Christian calendar into the story, taking us from New Year's Eve to Easter, and provided a juxtaposition of religion and sin, illustrating how even the most pious can have something to hide. I thought The Sinner was a fabulous read, with short chapters that kept me turning the pages as quickly as I could, and well-written and interesting characters.
---

---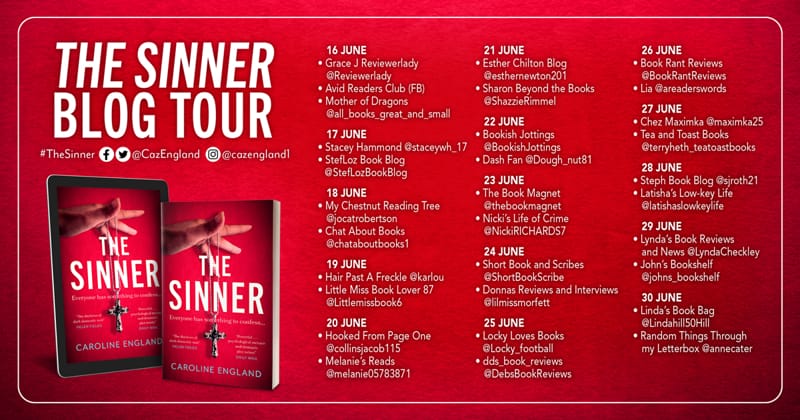 ---
---
Caroline England was born and brought up in Yorkshire and studied Law at the University of Manchester. She was a divorce and professional indemnity lawyer before leaving the law to bring up her three daughters and turning her hand to writing. As well as The Sinner, Caroline is the author of The Wife's Secret, previously called Beneath the Skin, the top-ten ebook bestseller My Husband's Lies, Betray Her and Truth Games. She has also been shortlisted for a CWA Dagger for her short story Blindsided. She lives in Manchester with her family.
To find out more about Caroline, visit her website http://www.carolineenglandauthor.co.uk or follow her on social media:
Twitter: https://twitter.com/CazEngland
Facebook: http://www.facebook.com/CazEngland1
Instagram: http://www.instagram.com/cazengland1