ShortBookandScribes #BookReview – The Silent Treatment by Abbie Greaves
I'm delighted to be sharing my thoughts about The Silent Treatment by Abbie Greaves today. My thanks to Martina Ticic from Midas PR for sending me a proof copy of the book for review purposes.
---

---
A lifetime of love. Six months of silence. One last chance.

Frank hasn't spoken to his wife Maggie for six months.

For weeks they have lived under the same roof, slept in the same bed and eaten at the same table – all without words.

Maggie has plenty of ideas as to why her husband has gone quiet, but it will take another heartbreaking turn of events before Frank finally starts to unravel the secrets that have silenced him.

Is this where their story ends?
Or is it where it begins?

With characters that will capture your heart, THE SILENT TREATMENT celebrates the phenomenal power of love and the importance of leaving nothing unsaid.
---
---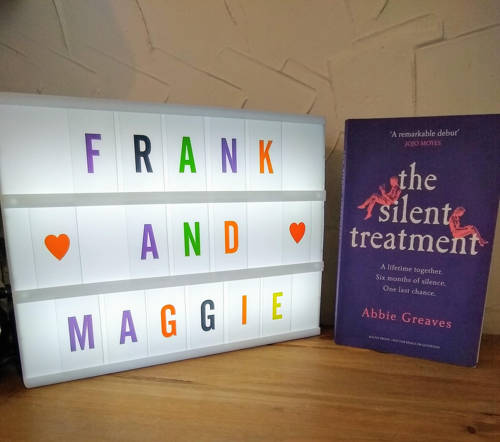 The Silent Treatment is a book with a premise that totally intrigued me. Why on earth hasn't Frank spoken to Maggie for 6 months after being happily married for 44 years?!
The book begins at the end of the 6 months when Frank hasn't spoken for so long that he's almost forgotten how, and Maggie is at the end of her tether. It takes a seismic event for them both to break the silence and that is where we are at the start of the story. From there we hear from Frank, looking back at their marriage, and from Maggie through her journal. What we get is an intimate look at their life together.
This is a very accomplished debut novel, full of heart and soul. It's hard to talk about it without giving away too much and I really think that the strength of this story is how it unfolds, the reveals that occur as we live through the heartache of the present and the ups and downs of the past, so I don't want to spoil it for other readers.
Abbie Greaves peels back the layers of a lifetime spent with another person so well. I felt like I knew Frank and Maggie, particularly Frank actually, as it's his story that is most prominent. Utterly devoted to Maggie, I knew it must have been something life-changing that stopped him talking to her. Whilst I started to have an inkling of what it might relate to, it was still both moving and heartbreaking when the moment came for him to confess.
The Silent Treatment is a gorgeous read, so insightful. For a book that revolves around a very small number of characters, it's so full of depth and so emotionally charged. I didn't find it difficult to keep wondering what I would do in Frank or Maggie's place.
---

---
A bit about me. Well, I was born in Oxford and from an early age, I read everything – cartoons, the Argos catalogue, cereal boxes. I wasn't that fussy, really! Most of all I loved books, which led me to study English Literature at university. After graduation, I spent three years in publishing and I wrote my first novel, THE SILENT TREATMENT (April 2020) whilst working as an assistant to a literary agent in London. It tells the story of a couple, Frank and Maggie, who have been married for forty years but who haven't spoken for the last six months.
I currently live in Edinburgh with my boyfriend, John, and am hard at work on my follow-up novel, THE ENDS OF THE EARTH. With the time that isn't spent writing or reading (the greatest hobby of all), I force myself to group exercise classes and knit to try and keep my phone-checking habit to a minimum.
For more information about me and news about my writing, check out my website. You can also follow me on Twitter or on Instagram where you'll also find out more about what I'm reading myself and what I get up to when I'm not at my desk. See you there!
Author bio and photo taken from Amazon