ShortBookandScribes #BookReview – The Silence Project by Carole Hailey
The Silence Project by Carole Hailey will be published by Corvus tomorrow in hardcover and eBook. My thanks to Kirsty Doole for the proof package.
---

---
Monster. Martyr. Mother.

On Emilia Morris's thirteenth birthday, her mother Rachel moves into a tent at the bottom of their garden. From that day on, she never says another word. Inspired by her vow of silence, other women join her and together they build the Community. Eight years later, Rachel and thousands of her followers around the world burn themselves to death.

In the aftermath of what comes to be known as the Event, the Community's global influence quickly grows. As a result, the whole world has an opinion about Rachel – whether they see her as a callous monster or a heroic martyr – but Emilia has never voiced hers publicly. Until now.

When she publishes her own account of her mother's life in a memoir called The Silence Project, Emilia also decides to reveal just how sinister the Community has become. In the process, she steps out of Rachel's shadow once and for all, so that her own voice may finally be heard.
---

---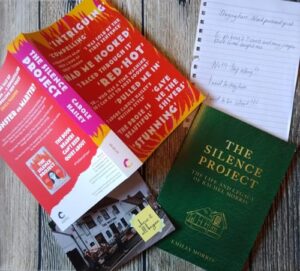 What makes somebody absent themselves from everyday life, from their family, job, friends? It's an intriguing question and one that doesn't have an obvious answer. On the day of her daughter Emilia's 13th birthday, Rachel Morris leaves the pub where she lives and works and takes a tent to the bottom of the garden, choosing to live there in complete silence. What seems like a strange phase goes on to motivate women around the world to join her in silence and in what becomes the Community. Some might choose to call it a cult, especially when thousands of women join Rachel in burning themselves to death. This is pretty shocking stuff!
What makes this book quite unique is the fact that it's fiction but it's written as though it's Emilia's memoir. I both liked and disliked this method of telling the story. The dislike, I suspect, is rooted in the fact that I'm not a great fan of non-fiction and there are large parts of this book that really do read like a true account. Even now, I can't help wondering if Rachel of Chalkham, as she became known, was real, and whether the burning really did happen. More regular non-fiction readers, therefore, might find they enjoy the sections that feel particularly factual (there are even citations with references to articles, books etc).
What I liked was the story overall which felt different to others that I've read, and when it dipped more towards a fictional style I really loved Emilia's account of life with, and without, her mother, how she dealt with before and after 'the event' and how the whole experience affected her later decisions.
Carole Hailey's writing is extremely good and it's hard to believe this is a debut. If it was real, the facts would be truly horrifying. As it is, even though I knew it was a work of fiction, I still felt shocked by the decisions that Rachel made and the effects of her actions. If this book had been written completely as a story I think I would have found it more to my taste but I can't deny it's a compelling read that will stay with me.
---
---
Carole Hailey completed the six-month Guardian/UEA novel writing course taught by Bernardine Evaristo, who imbued Carole with such a love for writing fiction that she abandoned her career in law to undertake an MA in Creative Writing at Goldsmiths, followed by a PhD in Creative Writing at Swansea University. Carole was a London Library Emerging Writer 2020/21. The Silence Project is her first published novel and was shortlisted for the Bridport Prize Peggy Chapman-Andrews First Novel Award 2020 and highly commended by the judges. She lives in Wales with her husband and two rescue dogs.