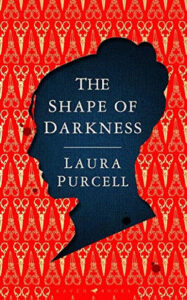 ShortBookandScribes #BookReview – The Shape of Darkness by Laura Purcell
I'm delighted to be sharing my thoughts about The Shape of Darkness by Laura Purcell today (spoiler: I loved it!). My thanks to Emilie Chambeyron from Raven Books for the gorgeous proof copy of the book. You can get your hands on a copy when it's published in hardcover, ebook and audiobook on 21st January.
---

---
Wicked deeds require the cover of darkness…

A struggling silhouette artist in Victorian Bath seeks out a renowned child spirit medium in order to speak to the dead – and to try and identify their killers – in this beguiling new tale from Laura Purcell.

Silhouette artist Agnes is struggling to keep her business afloat. Still recovering from a serious illness herself, making enough money to support her elderly mother and her orphaned nephew Cedric has never been easy, but then one of her clients is murdered shortly after sitting for Agnes, and then another, and another…

Desperately seeking an answer, Agnes approaches Pearl, a child spirit medium lodging in Bath with her older half-sister and her ailing father, hoping that if Pearl can make contact with those who died, they might reveal who killed them. But Agnes and Pearl quickly discover that instead they may have opened the door to something that they can never put back…

What secrets lie hidden in the darkness?
---

---
I've been so looking forward to reading The Shape of Darkness and not only did I love it but I thought it was actually spectacular.
This is the story of two women: Agnes Darken (what a name!), a silhouette artist in Bath; and Pearl Meers, an 11 year old girl who is using her gift as a medium to contact spirits and pay her way with her half-sister, Myrtle, and to help her father who is gravely ill. Agnes has cause to consult Pearl when the people who are sitting for their silhouettes are being murdered. Is somebody targeting Agnes and if so, why?
This is ostensibly the story but there is so much else going on. I was totally and utterly bewitched by it from start to finish, being at turns enthralled by Agnes' cutting skills and Pearl's great powers. The juxtaposition between Agnes, who is probably beyond middle-aged for Victorian times, and the young Pearl is marked, each stepping forward and taking centre stage in their own environment and providing such contrast.
I feel it's quite hard to do justice to this wonderful book in a review. It's so complex and intricate, so beautifully and compellingly plotted. I thought I had an idea of where it was going only to be surprised over and over (there was even a hand over the mouth moment). The characters and settings leap off the page and it wasn't hard to imagine the grimy streets, the dark and dingy rooms lit only by candlelight, the manifestations, and even the smells. Laura Purcell really has created something so completely three-dimensional and full of atmosphere.
With a sinister feel underlying even the most everyday scenes, The Shape of Darkness is a book I didn't want to put down. With every page I was drawn deeper and deeper into the murky world of séances, mesmerism and murders. I thought it was an authentic and fantastic gothic read, with a plot that kept on astonishing me and characters that I will not forget.
---
---
Laura Purcell is a former bookseller and lives in Colchester with her husband and pet guinea pigs.
Her first novel for Raven Books THE SILENT COMPANIONS won the WHSmith Thumping Good Read Award 2018 and featured in both the Zoe Ball and Radio 2 Book Clubs. Other Gothic novels include THE CORSET (US title THE POISON THREAD), BONE CHINA (US title THE HOUSE OF WHISPERS) and THE SHAPE OF DARKNESS (2021).