ShortBookandScribes #BookReview – The Shadowing by Rhiannon Ward #BlogTour
Welcome to my stop on the blog tour for The Shadowing by Rhiannon Ward. My thanks to Alex Layt from Trapeze for my review copy of the book and Tracy Fenton of Compulsive Readers for the place on the tour.
---

---
When well-to-do Hester learns of her sister Mercy's death at a Nottinghamshire workhouse, she travels to Southwell to find out how her sister ended up at such a place.

Haunted by her sister's ghost, Hester sets out to uncover the truth, when the official story reported by the workhouse master proves to be untrue. Mercy was pregnant – both her and the baby are said to be dead of cholera, but the workhouse hasn't had an outbreak for years.

Hester discovers a strange trend in the workhouse of children going missing. One woman tells her about the Pale Lady, a ghostly figure that steals babies in the night. Is this lady a myth or is something more sinister afoot at the Southwell poorhouse?

As Hester investigates, she uncovers a conspiracy, one that someone is determined to keep a secret, no matter the cost…
---

---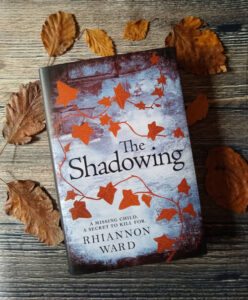 The Shadowing has a very interesting and appealing (for the reader, at least) setting. Hester travels from her home in Bristol to Southwell in Nottinghamshire to investigate the death of her sister in the workhouse there. I've visited the workhouse and I found that Rhiannon Ward really brought it to life in this book.
Hester is 22 and fairly naïve to be travelling alone in the 1800s. She comes from a strict Quaker background and her clothes immediately identify her as such. She gets into some quite dangerous situations in her pursuit of the truth about Mercy and the child that she was carrying when she entered the workhouse. It's a really taut and absorbing storyline which kept my interest and built up to quite the ending.
What sets Ward's books out are the side plots of spirituality. Hester sees what she calls shadowings, spirits who seem to accompany her in her day to day life, sometimes with a sinister sense of foreboding and other times a little more benign. This aspect felt plausible and very well-written.
I loved the descriptions of life in the small town. To me it felt like the workhouse loomed over them, and it and its inhabitants felt very real. I could really imagine life in Southwell from this book and it wasn't hard to imagine how it must have felt to have to enter the workhouse. Hester gets to know the local innkeeper, Matthew, and his two staff, Joan and Annie, and I enjoyed the relationships she forged with them in particular.
The author has weaved a historical tale that felt fresh. Hester makes some shocking discoveries during her time in Southwell and undergoes quite a transformation from a meek young woman to one determined to learn the truth and put right the wrongs that she unearths. The Shadowing is an atmospheric gothic read that might just send a shiver down your spine. I enjoyed it very much.
---

---
---
---
Rhiannon Ward is the pseudonym for Sarah Ward, the Amazon bestselling and critically acclaimed crime author.
Sarah has a masters degree in Religious History and has long been fascinated by the long tradition of spiritualism in England. A member of the Society of Psychical Research, Sarah has also studied Conan Doyle's passion for spiritualism. Sarah is a crime reviewer and book blogger at Crimepieces.
Follow Rhiannon on Twitter @sarahrward1
Find her on Facebook at: www.facebook.com/SarahWardCrime