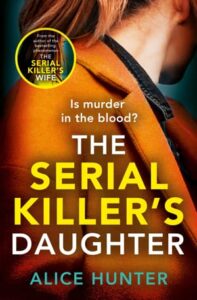 ShortBookandScribes #BookReview – The Serial Killer's Daughter by Alice Hunter
The Serial Killer's Daughter by Alice Hunter was published on 21st July by Avon. My thanks to the publishers for sending me a copy for review.
---

---
Is murder in the blood?

In a sleepy Devon village, a woman is taken from the streets. Local vet Jenny is horrified. This kind of thing doesn't happen here.

But it's not the first time she's been so close to a crime scene. The daughter of a prolific serial killer, she's spent her whole life running from who she really is.

And the crime is harrowingly similar to those her father committed all those years ago…

But she's not her father's daughter.

Is she?
---

---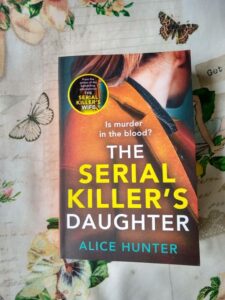 Jenny Johnson is a vet in a small village in Devon. As a serial killer's daughter, she's used to keeping herself to herself because she doesn't want anyone to know. When a local woman is taken off the street Jenny is concerned about her past coming back to haunt her.
Compounding Jenny's worries is the fact that she is having blackouts, periods during the night when she has no idea what she's been doing, and she starts to question her own behaviour. Jenny is a classic unreliable narrator and I honestly didn't know what to make of her.
Alice Hunter's story is a solid psychological thriller that kept me interested throughout. The short chapters helped to build up the pace and the back and forth between Jenny, her husband Mark, and an unknown narrator, really ramped up the tension, asking the reader to consider whether being related to a serial killer makes you more likely to be one yourself. The snippets from Jenny's childhood were fascinating and macabre too.
I really enjoyed The Serial Killer's Daughter. It was full of suspense. If you're worried that you haven't yet read The Serial Killer's Wife, Hunter's first book, then don't be as they don't follow on. I thought the ending of this one was clever and could spawn a whole new book!
---
---
After completing a psychology degree, Alice Hunter became an interventions facilitator in a prison. There, she was part of a team offering rehabilitation programmes to men serving sentences for a wide range of offences, often working with prisoners who'd committed serious violent crimes. Previously, Alice had been a nurse, working in the NHS. She now puts her experiences to good use in fiction. THE SERIAL KILLER'S WIFE draws heavily on her knowledge of psychology and the criminal mind.