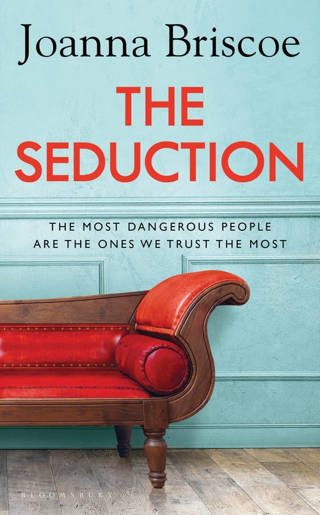 ShortBookandScribes #BookReview – The Seduction by Joanna Briscoe
I'm sharing my thoughts about The Seduction by Joanna Briscoe today. My thanks to Philippa Cotton from Bloomsbury for the proof copy of the book for review purposes.
---

---
Beth lives by Camden Lock with her partner Sol and their daughter Fern. Life is peaceful, but Beth is troubled by increasing unease. It could be to do with her mother's disappearance years ago. It could be her sense that Fern is keeping secrets from her.

So she goes to therapy. Dr Tamara Bywater is there to help her patients, and soon their sessions become the highlight of Beth's week. But Beth is in over her head before she realises that Tamara might not be all she seems…

What if the person you trust the most turns out to be the greatest danger of all?
---
---
Having read some of Joanna Briscoe's other works I guessed I was in for an intense ride with The Seduction. I wasn't wrong. I might also have been a tiny bit seduced myself by that stunning hardback cover.
Beth is an artist, living in a house overlooking Camden Lock with her husband, Sol, and thirteen year old daughter, Fern. The lock itself plays a part in the story as the rippling of the water, the passers-by (who may or may not be looking at Beth), and the dark and rather sinister feel of it as night falls, all add to a general feeling of unease.
Beth's own mother left when she was thirteen and it's left her with a multitude of issues. Now Fern has reached that age herself and Beth's own childhood trauma seems to trigger something in her to the extent that Sol suggests Beth should seek help from a therapist. Enter Dr Tamara Bywater, a woman who seems to be one thing and then another, all the while beguiling Beth who is clearly at her most vulnerable at this difficult time.
The book is peppered with unlikeable characters. I can't think of a single one that I could take to. But I was utterly entranced by them all, reading on as their actions hurtled them recklessly towards self-destruction. I could empathise with Beth though, a woman who had clearly not dealt with the demons of her past. The last thing she needed was someone like Tamara, a dangerous and multi-layered character who should be there to help Beth. Their relationship had me fascinated, hardly wanting to take my eyes off the page. The characters have so much emotional baggage to unpack that I was practically getting the popcorn out and settling back to watch it all unravel.
I know that some of the author's other works have been made into TV dramas. The Seduction would definitely make a great adaptation. I found myself reading bits out loud, mostly Beth's dialogue for some reason. I think I was absorbed by her reactions to Tamara.
Briscoe has an unique writing style with a fairly stark tone that I really don't think I appreciated as a younger reader. Now I find myself delving more into the meanings, the ulterior motives, the nuances, looking to understand the characters' actions and thoughts, and wondering how I would behave in the same circumstances.
I found The Seduction to be quite the page turner with the issue of trust, and the abuse of that trust, at its heart. I enjoyed it very much.
---

---
Joanna Briscoe is the author of five previous novels, including the bestselling Sleep With Me, which was adapted for ITV by Andrew Davies. She has been a columnist for the Independent and the Guardian, is a literary critic for the Guardian, and broadcasts regularly on Radio 4. Joanna lives in London.