ShortBookandScribes #BookReview – The Secrets of Mill House by Anne Wyn Clark
The Secrets of Mill House by Anne Wyn Clark is published by Avon and is available in paperback, eBook and audiobook. My thanks to the author for kindly sending me a copy for review.
---

---
A missing child. A broken community. A horrifying secret.

When a baby is kidnapped in broad daylight with no witnesses, an otherwise sleepy suburb is rocked to the core and ten-year-old Flora Lanyon is left terrified.

Decades later, Flora takes a job as a live-in carer for elderly couple, Agnes and Abraham, moving into the decrepit watermill where they live. As strange and inexplicable occurrences start to happen, Flora grows increasingly suspicious.

What dark secrets are hiding in the house? Is Flora safe there? And can she unearth the truth before the past catches up with the present?

This chilling, haunting and twisty thriller about how far we go to protect our darkest secrets is perfect for fans of Ruth Ware, Cass Green and C. J. Tudor
---

---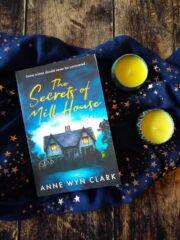 The Secrets of Mill House is a multi-layered story that became more and more intriguing as it went on. It begins in the 1970s with a kidnapped baby in Flora Lanyon's small community, a shocking event that she never forgets. Flora had a tough start to life with loss and abuse sadly forming a large part of it. Years later, in 2001, she is drawn for various reasons to a job at a watermill, looking after Agnes Homity, but with the sinister presence of Abraham Homity and the couple's son, Hector, Flora quickly wonders if she's made a big mistake even setting foot in Mill House.
It's actually really hard to talk about all the different strands of this book without ending up going into too much detail. There is such a lot going on and I really liked that about it, as Flora made more and more discoveries about the past and about the Homity family. Alongside the 2001 story we follow Flora as she grows up, and we witness some of the events that eventually lead her to Mill House.
I loved the eerie setting of the watermill. Not only are there some strange things going on there but the idea of the wheel and the water surging around it gave me the creeps. The story itself is quite disturbing at times and full of twists and turns. There were no big surprises for me but I enjoyed finding out if what I thought had happened was correct.
I was reminded of some of Lesley's Pearse's more recent books when I read this one so if you like those then you'll like The Secrets of Mill House. I certainly did. It's atmospheric and unsettling and it kept me gripped.
---
---
Anne Wyn Clark was born and raised in the Midlands, where she continues to live with her husband, a sweet-natured cat, plus a chinchilla with attitude. She has three now grown-up children and six grandchildren. Much of her formative existence was spent with her head in a book, and from an early age, she grew to relish the sheer escapism afforded by both reading and writing fiction. She has a love of antiquity and a penchant for visiting old graveyards.