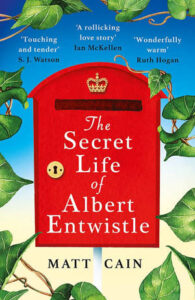 ShortBookandScribes #BookReview – The Secret Life of Albert Entwistle by Matt Cain
I'm sharing my thoughts about this delightful book today. The Secret Life of Albert Entwistle by Matt Cain will be published in hardcover, eBook and audiobook on 27th May. My thanks to Rosie Margesson from Headline for the proof copy of the book for review purposes. Oh..and the Crunchie..which I ate straightaway and so had to buy another for the photo….
---

---
IT'S NEVER TOO LATE TO START YOUR LIFE'S BIG ADVENTURE . . .

Albert Entwistle was a postman. It was one of the few things everyone knew about him. And it was one of the few things he was comfortable with people knowing.

64-year-old Albert Entwistle has been a postie in a quiet town in Northern England for all his life, living alone since the death of his mam 18 years ago. He keeps himself to himself. He always has. But he's just learned he'll be forced to retire at his next birthday. With no friends and nothing to look forward to, the lonely future he faces terrifies him. He realises it's finally time to be honest about who he is. He must learn to ask for what he wants. And he must find the courage to look for George, the man that, many years ago, he lost – but has never forgotten . . .

Join Albert as he sets out to find the long-lost love of his life, and has an unforgettable and completely life-affirming adventure on the way . . . This is a love story the likes of which you have never read before!
---

---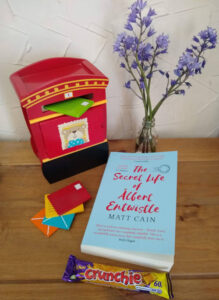 Oh Albert……..! I just loved reading your story.
Albert is a postman, has been all his working life. He doesn't really know what else he would do if he didn't deliver the post. He's a complete introvert, avoiding his colleague's camaraderie, looking away to prevent chat with people on his round, and just generally keeping himself to himself. It's the only way as when he did come close to happiness when he was just a teenager it all went wrong. He'd been in love with another boy, George, but he just wasn't strong enough then to deal with it and now another 50 years have passed.
Albert Entwistle is the most wonderful creation and it was an absolute pleasure to follow him as he learns that he must retire as a postman and he starts to realise that he missed out on so much by burying himself away. This life change prompts him to start looking for George and along the way he meets some people who change his life for the better.
Basically, Albert is the caterpillar emerging from the cocoon into a butterfly. It takes him rather a long time but at last he's ready to fly. The characterisations in this book are a complete delight, not just Albert who is a darling, but all the other characters who play their part in his reinvention such as Nicole, a young single mum who helps Albert with his search for George and for whom Albert is a kind of surrogate grandfather. Then there's Danny and Daniel, a gay couple who represent all the freedom that Albert never had with George. I had a soft spot for Albert's menopausal boss, Marjorie, too.
This is a book that is full of emotion whilst still being humorous. The balance is perfect. It made me glad that we've moved on from the rigidity of the past. Whilst Albert still encounters some level of prejudice, he realises that things have changed and he must too.
Matt Cain has produced a beautiful book with The Secret Life of Albert Entwistle. It's thought-provoking and moving, yet still has a light touch. It's a truly life-affirming book that I just didn't want to put down. I found it so tender and so uplifting with a main character that I won't forget. It really is never too late.
---
---
Matt Cain is an author, a leading commentator on LGBT+ issues, and a former journalist. He was Channel 4's first Culture Editor, Editor-In-Chief of Attitude magazine, and has judged the Costa Prize, the Polari Prize and the South Bank Sky Arts Awards. He won Diversity in Media's Journalist Of the Year award in 2017 and is an ambassador for Manchester Pride and the Albert Kennedy Trust, plus a patron of LGBT+ History Month. Born in Bury and brought up in Bolton, he now lives in London.