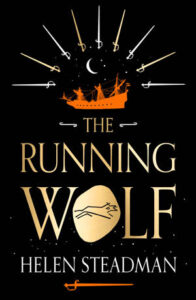 ShortBookandScribes #BookReview – The Running Wolf by Helen Steadman
My review today is of a work of historical fiction – The Running Wolf by Helen Steadman. My thanks to the author for sending me a copy of the book for review purposes together with the gorgeous hanging ornament which I think she made herself!
---

---
When a German smuggler is imprisoned in Morpeth Gaol in the winter of 1703, why does Queen Anne's powerful right-hand man, The Earl of Nottingham, take such a keen interest?

At the end of the turbulent 17th century, the ties that bind men are fraying, turning neighbour against neighbour, friend against friend and brother against brother. Beneath a seething layer of religious intolerance, community suspicion and political intrigue, The Running Wolf takes us deep into the heart of rebel country in the run-up to the 1715 Jacobite uprising.

Hermann Mohll is a master sword maker from Solingen in Germany who risks his life by breaking his guild oaths and settling in England. While trying to save his family and neighbours from poverty, he is caught smuggling swords and finds himself in Morpeth Gaol facing charges of High Treason.

Determined to hold his tongue and his nerve, Mohll finds himself at the mercy of the corrupt keeper, Robert Tipstaff. The keeper fancies he can persuade the truth out of Mohll and make him face the ultimate justice: hanging, drawing and quartering. But in this tangled web of secrets and lies, just who is telling the truth?
---

---
The Running Wolf is set right at the end of the 17th century and the very beginning of the 18th century. It centres around a group of master sword makers from Solingen in Germany who, having found that work has dried up and there are too many of them in one small area, break away from their community and move to the very north of England to form a new community.
It's not hard to imagine, with Helen Steadman's expert guidance, how it must have felt for them to arrive in a new place, feeling like they don't belong. The main characters are Hermann Mohll and his wife, daughter and mother, along with their pup, Griselda. I found reading about their home life, roles and customs really interesting and the author brought it all to life for me.
Alongside the family's arrival in Shotley Bridge and the ensuing years as Hermann tries to build up his sword making and the family settle in fairly uneasily, there is a slightly later thread set in Morpeth Gaol where Hermann is being held after smuggling swords from Solingen to try to improve matters for his family and those in his community. I thought it was clever how the author weaved the two timelines together.
Helen Steadman always writes with such authenticity and attention to detail. Her research is thorough and setting is always strong. I must admit I didn't gel with this book quite as much as I did with her first two, Widdershins and Sunwise. Maybe it's because sword making seems a very specific subject matter and wouldn't necessarily be something I would be drawn to if it hadn't been an author whose work I had enjoyed previously. However, it is a really intriguing basis for a novel and quite unique I would imagine. This is an author who I feel writes books that are completely faithful to the time in which they are set.
I'm glad I read The Running Wolf. I learned a lot about the art of sword making, about how it must have felt to uproot a family in the late 1600s and then to try to maintain traditions from home whilst settling into a new community. This is one for historical fiction fans who are looking for a storyline that is a bit different from the norm.
---
---
Helen Steadman is a historical novelist. Her first novel, Widdershins and its sequel, Sunwise were inspired by the 1650 Newcastle witch trials. Her third novel, The Running Wolf was published by Impress Books on Tuesday 1 December, 2020.
Helen is particularly interested in revealing hidden histories and she is a thorough researcher who goes to great lengths in pursuit of historical accuracy. To get under the skin of the cunning women in Widdershins and Sunwise, Helen trained in herbalism and learned how to identify, grow and harvest plants and then made herbal medicines from bark, seeds, flowers and berries.
The Running Wolf is the story of a group of master swordmakers who left Solingen, Germany and moved to Shotley Bridge, England in 1687. As well as carrying out in-depth archive research and visiting forges in Solingen to bring her story to life, Helen also undertook blacksmith training, which culminated in making her own sword.