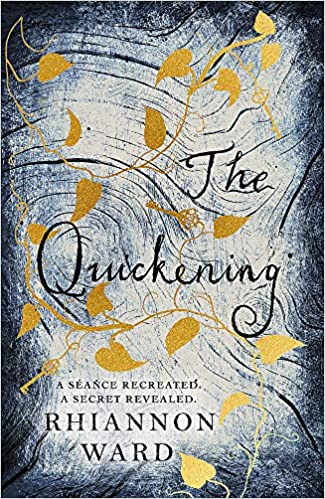 ShortBookandScribes #BookReview – The Quickening by Rhiannon Ward
My review today is of The Quickening by Rhiannon Ward. It's a fantastic read. My thanks to Alex Layt from Trapeze for the copy of the book.
---

---
An infamous seance. A house burdened by grief. A secret that can no longer stay buried.

England, 1925. Louisa Drew lost her husband in the First World War and her six-year-old twin sons in the Spanish Flu epidemic of 1918. Newly re-married and seven months pregnant, Louisa is asked by her employer to travel to Clewer Hall in Sussex to photograph the contents of the house for auction. Desperate for money after falling on hard times, she accepts the commission.

On arrival, she learns Clewer Hall was host to an infamous séance in 1896, the consequences of which still haunt the family. Before the Clewer's leave England for good, the lady of the house has asked those who attended the original séance to recreate the evening. Louisa soon becomes embroiled in the strange happenings of the house, unravelling the longheld secrets of what happened that night thirty years before… and discovers her own fate is entwined with Clewer Hall's.

An exquisitely crafted mystery that invites the reader into the crumbling Clewer Hall to help unlock its secrets alongside the unforgettable Louisa Drew.

For fans of The Silent Companions, The Little Stranger and The Familiars.
---

---
I love historical fiction and I find I am always most interested in Victorian times onwards so The Quickening, set in 1925 but with a toe in the late 1800s, appealed to me. Its very gothic feel just heightened my anticipation and enjoyment.
Louisa Drew is a photographer and pregnant. She's called upon to go from London to Brighton to photograph items at Clewer Hall for an auction. From the minute she is given the assignment she knows something isn't right about the hall and she later learns that a well-known séance took place there in 1896. Why was she specifically requested to take the photographs? Why is she so uncomfortable at the hall? And why are the family recreating the séance all these years later?
Well, to learn all that you will have to read the book, but I found this a thoroughly enjoyable and engrossing read. I loved Louisa. She's well ahead of her time, a woman not only working whilst married but also whilst pregnant. She's very independent and pretty feisty. She's already suffered the worst that can happen to her so she's forging ahead with her life as best she can. I did often wonder why she was sticking her nose into matters at the hall, but her investigative skills could put Miss Marple to shame and she needed to know why she was there.
Rhiannon Ward has done an excellent job with this story. It's creepy and sinister, with a strong sense of the unexplained, and that sense of never knowing if any of it could in fact be explained away or if it was the spirit world at work. I loved the feel of the faded hall as the backdrop. Clewer Hall is a character in its own right, with its few remaining servants providing a hint of its glory days. Ward has created atmosphere in spades with dark corners, shadows and mysterious sightings.
This is a mystery novel but it felt like more than that for me. Louisa unearths secrets left, right and centre, but it felt more like a story of grief, of life after the First World War, of learning to make do with what is left. Ward beautifully portrays what it's like to be left behind. It's a fabulous read.
---
---
Rhiannon Ward is the pseudonym for Sarah Ward, the Amazon bestselling and critically acclaimed crime author.
Sarah has a masters degree in Religious History and has long been fascinated by the long tradition of spiritualism in England. A member of the Society of Psychical Research, Sarah has also studied Conan Doyle's passion for spiritualism. Sarah is a crime reviewer and book blogger at Crimepieces.