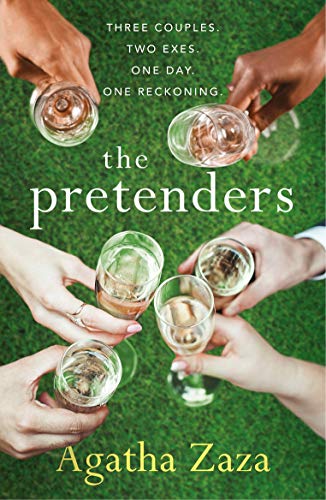 ShortBookandScribes #BookReview – The Pretenders by Agatha Zaza #BlogTour #ThePretenders
Welcome to my stop on the blog tour for The Pretenders by Agatha Zaza. I'll be sharing my thoughts about this book today. My thanks to Peyton Stableford from Agora for the place on the tour and the proof copy of the book for review purposes.
---

---
'I'm perfectly happy lying to myself…If it means getting to stay with you.'

Jasper is ready to surprise his brother; Holly is ready to celebrate their engagement.

Anne tags along for fear of missing out, and John might just be going for another drink.

But Edmund and Ovidia had other plans for their Saturday.

Over the course of one day, these couples must own up to the secrets they've been hiding from one another and the lies they've been telling themselves. And face the devastating consequences.

Three couples. Two exes. One day. One reckoning.

In her debut novel, Agatha Zaza crafts a modern domestic tragedy simmering with betrayal and deceit.
---

---
The Pretenders is a completely character-driven story about three couples. As the book begins Edmund is smashing up a wooden structure in the garden whilst Ovidia looks on. Immediately it brings forth many questions about why he is doing it, why she is looking on, why she's not shocked by his behaviour.
On their way to Edmund's house are his brother, Jasper and his fiancée, Holly, and friends John and Anne. There's a sense of foreboding about this visit that is totally built up by the author's writing. I really felt like it was not a good idea! The fact that the door is slightly ajar when they get there added to this.
The characterisations are strong in the book, as they needed to be. Ovidia was my favourite character. She's such a complex person, so full of layers, and so very intriguing, but the others are also well-drawn. What is really clever is how Agatha Zaza executes a number of very slow reveals over the course of the book, dropping surprises in all the time with the aid of flashbacks and also through the conversations between the friends. I didn't see any of it coming at all.
Don't go into The Pretenders expecting a fast-paced read. This is very much the slow-burner. It's set over the course of one day and I kind of felt like I was sat there with the characters, getting to know them and chewing the cud with them. It's a well-written domestic drama full of secrets and lies.
---

---
---
---
Agatha Zaza is a Zambian and Finn at present living in Auckland, New Zealand. Her writing is a departure from her work in fundraising and international development.
The Pretenders was born in Singapore, where she spent three years as a trailing spouse, where she rekindled a long-dormant love of writing. Aside from Singapore, Agatha has worked and lived several countries, among them Uganda and the then Soviet Union. While in Ireland, she earned a Master's in Equality Studies from University College Dublin and worked in a genuine Irish pub.
Agatha's work can be seen in the Johannesburg Review of Books and in a PEN International special edition on African writers. She has also published three short books on Amazon. She's been a passionate slow runner for two and half decades and has recently taken up composting and staring at her new sewing machine.