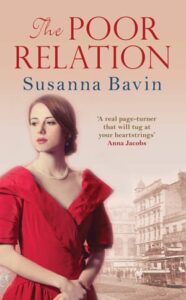 ShortBookandScribes #BookReview – The Poor Relation by Susanna Bavin
The Poor Relation by Susanna Bavin is available now in paperback, eBook and audiobook, published by Allison & Busby. My thanks to the author for the review copy of the book.
---

---
Manchester, 1908. Attractive, intelligent Mary Maitland is furious to learn that her pompous boss will never promote her, simply because she is a woman. Despite financial support from her family, Mary is determined to strike out on her own and earn a living. She finds work at a women's employment agency, where her talent for writing is noticed and she begins publishing articles for newspapers and magazines. But in the face of strong opinions from her well-to-do family on the role of a woman, is it possible to be a dutiful daughter at the same time as spreading her wings?
---

---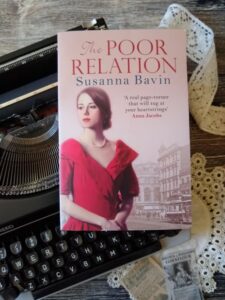 Mary Maitland is the poor relation of the title, the wealthy side of her family being the Kimbers of Ees House. They look down on Mary and her family because her grandfather married……God forbid!……a shop girl. Her grandmother always rues the day she gave up the Kimber name and changed her son's surname to Maitland when she married for a second time.
Mary is a thoroughly lovely character. It's 1908 and women are not expected to achieve very much but she wants more than her Town Hall job, watching all her male colleagues being promoted before her, so she joins a women's employment agency and then turns her hand to writing articles for the press. I loved following her growth as the book progressed and how determined she was not to conform to what her father and society wanted from her (which was not very much!).
There's a family tree at the front of the book and I was very glad of it as the relationships between the Kimbers, Maitlands, and another family, the Rawleys, was quite complicated. The Rawley family did give me two fabulous characters: Helen Rawley, a cantankerous old lady who had given up all hope of a life of her own and spent it instead looking after her brother whilst seething inwardly about it under the surface that polite society decrees she should show; and Greg Rawley, a dastardly chap who is trying desperately to get his hands on family money. Both really made me laugh out loud sometimes and I very much enjoyed Susanna Bavin's sharp humour when telling their stories.
The story covers votes for women and forcible feeding of prisoners, a horrifying practice. I found the whole story to be full of aspects of social history, such as teaching women how to be more hygienic in the home and the difficulties women faced when trying to get their voices heard, which made this a really interesting read for me.
The Poor Relation was a book that I really looked forward to picking up. It felt very real and informed, offering a story that enthralled me and a hint of romance too. I've read Susanna Bavin's books before and I know that this is an author whose work I will enjoy. Highly recommended for historical fiction and saga fans.
---
---
Susanna Bavin also writes as Polly Heron (The Surplus Girls 1920s saga series) and Maisie Thomas (The Railway Girls WW2 saga series).
Susanna lives on the beautiful North Wales coast with her husband and their two rescue cats. She is originally from Chorlton-cum-Hardy in Manchester, where her family has lived for several generations and which provides the setting for her family sagas.
www.susannabavin.co.uk