ShortBookandScribes #BookReview – The People's Princess by Flora Harding
The People's Princess by Flora Harding is published by One More Chapter and is available now in paperback, eBook and audiobook.
---

---
Buckingham Palace, 1981

Her engagement to Prince Charles is a dream come true for Lady Diana Spencer but marrying the heir to the throne is not all that it seems. Alone and bored in the palace, she resents the stuffy courtiers who are intent on instructing her about her new role as Princess of Wales…

But when she discovers a diary written in the 1800s by Princess Charlotte of Wales, a young woman born into a gilded cage so like herself, Diana is drawn into the story of Charlotte's reckless love affairs and fraught relationship with her father, the Prince Regent.

As she reads the diary, Diana can see many parallels with her own life and future as Princess of Wales.

The story allows a behind-the-scenes glimpse of life in the palace, the tensions in Diana's relationship with the royal family during the engagement, and the wedding itself.
---

---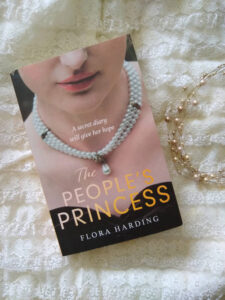 As a royalist and a lover of fact-based fiction, The People's Princess was a must-read for me. I really enjoyed this dual timeline story of two Princesses of Wales, one born to the role and the other marrying into it.
The one we all know about is Diana and this book covers the period between her engagement and her wedding day when she was full of excitement to be marrying her prince whilst battling with a sense that her fairytale was not all it was cracked up to be. We all know how it turned out and Flora Harding portrays Diana's vulnerability, nerves and innocence very well, weaving together known facts with fictionalised thoughts and conversations.
The other Princess of Wales is Charlotte, daughter of George IV and granddaughter of George III, and as such, she was to be queen one day. Her story begins in 1813 when she is 17 and a suitable diplomatic marriage with a foreign prince is sought for her. She's feisty and knows her own mind and wants to marry for love, not duty. I thought she was such a fascinating and wonderful person and I was pleased at how things turned out for her although, like Diana, her life was not destined to be long and happy.
To link the two narratives, Harding has Diana read Charlotte's diary and she's able to see some parallels between their situations. Charlotte was immensely popular with the public and Diana was already experiencing some of the hysteria that was to surround her life so completely.
I thought this was a splendid read and I thoroughly enjoyed it. I loved reading about the princesses, both the familiar and the unfamiliar (to me). I finished it one night in bed and when I woke the next morning I found I was thinking about the characters and felt sad that I had come to the end of their stories.
Fans of the royals, historical fiction, dual timelines, and fiction based on real people and events will love this one, just as I did. I'm going to read Harding's first royal novel, Before the Crown, and I hope there will be more similar books in the future too.
---
---
Flora Harding began writing over 30 years ago to fund a PhD on the disposal of waste in Elizabethan York, and has juggled fact and fiction ever since. Under various pseudonyms she has written more than 75 novels, histories and other forms of non-fiction and continues to be fascinated by the relationship between the past and the present, whatever she happens to be writing.