ShortBookandScribes #BookReview – The Patchwork Girls by Elaine Everest #BlogTour
It's my stop on the blog tour for The Patchwork Girls by Elaine Everest. I loved this book! My thanks to Courtney Jefferies from ED PR for the place on the tour and for sending a copy of the book. I'd also like to thank Elaine for my very own patchwork bookmark, made by her own fair hands. It was a lovely surprise and can be seen in my photo below.
The Patchwork Girls will be published on 14th October by Pan Macmillan in paperback original, priced £7.99.
---

---
1939. After the sudden and tragic loss of her husband, Helen returns to her mother's house in Biggin Hill, Kent – the one place she vowed she'd never go back to.

Alone and not knowing where to turn, she joins the local women's sewing circle to find some companionship and comfort, despite being hopeless with a needle and thread. These resourceful women can not only 'make- do and mend' clothes, quilts and woolly hats, but the fast-formed friendship with Lizzie and Effie mends something deeper in Helen too.

When the reason for Helen's husband's death comes to light, her world is turned upside down yet again. The investigating officer on the case, Richard, will leave no stone unturned – but it's not long before his interest in Helen goes beyond the professional. As she pieces together old fabrics into a beautiful quilt, will Helen patch up the rifts in her own life?
---

---
The year is 1939 and Britain is at war. The Patchwork Girls begins with Helen visiting the London apartment she shared with her MP husband, John, after his untimely death. Unable to stay there she goes to stay with her mother and stepfather in Kent where she makes some wonderful new friends. The title hints at the nature of the friendship: Helen becomes involved with a group of people undertaking various crafts, the most interesting for her being patchwork, and quilt designs in particular.
This is such an engaging read, a multi-layered one which I enjoyed so much. Helen goes from her fairly sophisticated London home to quite a more rural one, and I thought the settings were really vivid and well-drawn. I especially liked the dog kennels that come to play a huge part in Helen's new life and I felt genuinely happy for her to have that involvement. Being an old romantic, one of my favourite aspects of the story was Helen meeting Richard, the chief officer investigating John's death. I don't want to give anything away but I just thought that strand of the story was really lovely. Another uplifting aspect was Helen's new friendships, with Effie and Lizzie in particular, both so different yet both exactly the kind of people Helen needed in her new life, giving her a sense of comradeship.
As I say, there are several threads (excuse the pun) in this story with the crafts, the dogs, the romance, the friendships, family ties, and then the sub-plot of John's death and what caused it. They're all brought together expertly by the author to make The Patchwork Girls into a gorgeous story that completely warmed my heart. I spent a very happy couple of days reading this delightful book. I feel like I've learned more about patchwork quilt designs too which is a nice bonus. I loved this touching and engrossing standalone read from Elaine Everest.
---

---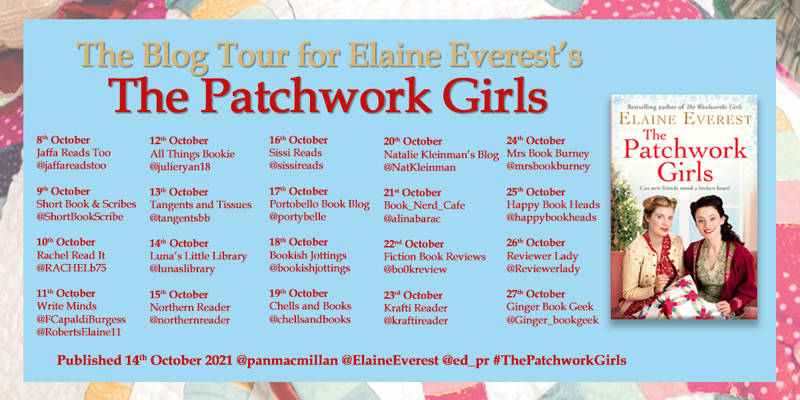 ---
---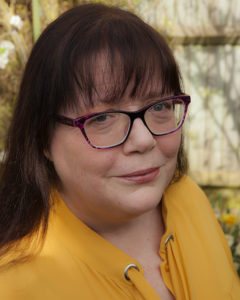 Elaine Everest is the author of bestselling novels The Woolworths Girls, The Butlins Girls, Christmas at Woolworths and The Teashop Girls. She was born and raised in North-West Kent, where many of her bestselling historical sagas are set. She grew up listening to tales of the war years in her hometown of Erith, which has inspired her own stories.
Elaine has been a freelance writer for 25 years and has written over 100 short stories and serials for the women's magazine market. She is also the author of a number of popular non-fiction books for dog owners.
When she isn't writing, Elaine runs The Write Place creative writing school in Hextable, Kent. She now lives in Swanley with her husband, Michael and their Polish Lowland Sheepdog, Henry.