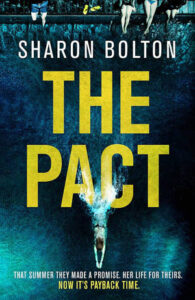 ShortBookandScribes #BookReview – The Pact by Sharon Bolton
A new Sharon Bolton book is always a cause for excitement for me so I'm pleased to be sharing my thoughts about The Pact today. My thanks to Patricia Deveer from Orion for sending me a proof copy for review purposes. It's already out in eBook and will be published in hardcover and audiobook on 27th May.
---

---
A golden summer, and six talented friends are looking forward to the brightest of futures – until a daredevil game goes horribly wrong, and a woman and two children are killed.

18-year-old Megan takes the blame, leaving the others free to get on with their lives. In return, they each agree to a 'favour', payable on her release from prison.

Twenty years later Megan is free.
Let the games begin . . .

Richard & Judy bestseller Sharon Bolton is back, with her twistiest thriller yet.
---

---
The Pact is the story of six school friends at a private school in Oxford. Five of them fit in perfectly and are living the life they feel entitled to live. The sixth, Megan, is a scholarship student and whilst the others have taken her into their group there's always a sense of her being slightly out of place. A stupid daredevil prank leaves their future lives dangling by a thread until Megan saves them, agreeing to take the blame as long as they do something for her when she is released from prison.
This premise was one that I loved. What a brilliant idea from Sharon Bolton. The five, Talitha, Xav, Amber, Felix and Daniel, go on to live successful lives and although for some of them Megan is always there in the background, others pretty much forget about her, and so when she's released it becomes a nightmare situation for them as she starts to call in her favours.
I found The Pact to be a really thrilling read. There is brilliant plotting, a dilemma, great characters, some of whom are slightly more likeable than others, and plenty of twists and turns. I flitted between rooting for Megan to being quite scared by her, and there were some surprises in the behaviour of the characters that I just didn't expect. If you think you know what is happening in this book then think again. I loved that about it.
Bolton is such a brilliant writer. I'd read any of her books without a thought. The Pact is a tense ride (in more ways than one). It's a story of the power of friendship and whether it can endure, and the barriers between the over- and under-privileged of this world. I think for me it highlighted how a split second stupid decision can ruin not only your own life but others as well in a ripple effect. Think carefully before you think you are invincible. I loved this exciting and shocking book.
---
---
Sharon (formerly S J) Bolton grew up in a cotton-mill town in Lancashire and had an eclectic early career in marketing and public relations. She gave it up in 2000 to become a mother and a writer.
Her first novel, Sacrifice, was voted Best New Read by Amazon.uk, whilst her second, Awakening, won the 2010 Mary Higgins Clark Award (part of the prestigious Edgars) in the US. She has been shortlisted for the CWA Gold Dagger, the Theakston's Prize for Best Thriller, the International Thriller Writers' Best First Novel award, the Prix Du Polar in France and the Martin Beck award in Sweden.