ShortBookandScribes #BookReview – The Other Guest by Heidi Perks
The Other Guest by Heidi Perks is published by Century and available now in hardcover, eBook and audiobook. My thanks to Rachel Kennedy for the proof copy of the book.
---

---
She thinks she knows the truth. But what if she's wrong?

Laila and her husband arrive for a week's holiday in Greece in desperate need of a reset.

As Laila sits by the pool she finds herself inexplicably drawn to the other family staying in their resort.

Em has no idea who Laila is, or that she has been watching her and her teenage sons and husband so intently.

Five days later their worlds will be blown apart by a horrifying event.

Laila thinks she knows the truth of what happened. But in telling Em what she's seen, she stands to lose everything she holds dear.

And what if she's got it wrong?
---

---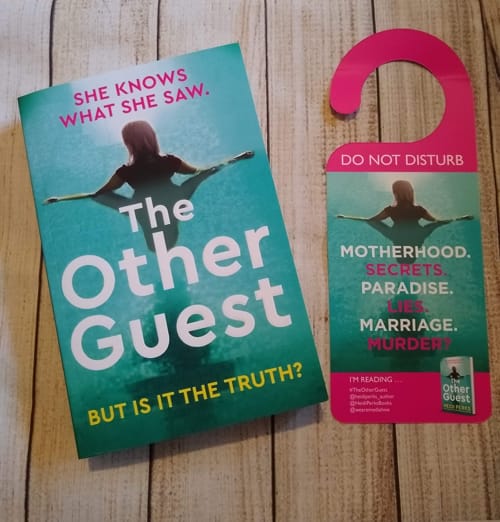 I do like my thrillers when they edge towards the domestic and so The Other Guest worked well for me in that respect. The book is set on a small and exclusive Greek island resort and is almost all about one couple and one family holidaying at White Sands.
Leila and her husband, James, are on what is pretty much a make or break holiday to try and repair the damage that several rounds of IVF have done to their marriage. Leila is a people-watcher, something I recognised in her straightaway. She can't stop feelings of envy for Em and her two teenage boys, Isaac and Theo. A family is all she's ever wanted.
When a tragedy occurs, Leila's people-watching means that she thinks she has vital information, but does she really or has she just made everything worse?
The first half is Leila's own account of the first few days of the holiday and she's a little unreliable as the reader doesn't know how much is simple watching and how much is snooping, which feels like it might be her coping mechanism. Interspersed with her sections are chapters from later, when the tragedy is discovered. Then we discover more from Em's point of view and the two strands become intertwined.
I enjoyed this book. It's easy to read and kept my interest and intrigue levels up. It's a traditional style locked-room mystery but set in a holiday destination. I must admit I was expecting more of a revelation at the end but everything was explained well and wound up satisfactorily.
The Other Guest will be the perfect summer holiday read but just remember that you never know who's watching you!
---
---
Heidi Perks is the Sunday Times bestselling author of Now You See Her, which was a Richard and Judy Book Club pick, Come Back for Me, Three Perfect Liars and The Whispers. The Other Guest is her fifth novel. Heidi is a voracious reader of crime and thrillers and is fascinated by the darker side of our closest relationships. Heidi lives in Bournemouth with her husband and two children.