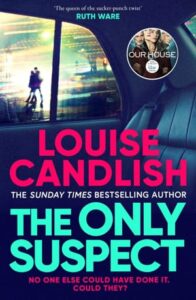 ShortBookandScribes #BookReview – The Only Suspect by Louise Candlish
The Only Suspect by Louise Candlish will be published by Simon & Schuster in hardcover, eBook and audiobook on 2nd February. My thanks to Laura Sherlock for the proof copy.
---

---
Wrong time. Wrong place. Wrong man.

Alex lives a comfortable life with his wife Beth in the leafy suburb of Silver Vale. Fine, so he's not the most sociable guy on the street, he prefers to keep himself to himself, but he's a good husband and an easy-going neighbour.

That's until Beth announces the creation of a nature trail on a local site that's been disused for decades and suddenly Alex is a changed man. Now he's always watching. Questioning. Struggling to hide his dread . . .

As the landscapers get to work, a secret threatens to surface from years ago, back in Alex's twenties when he got entangled with a seductive young woman called Marina, who threw both their lives into turmoil.

And who sparked a police hunt for a murder suspect that was never quite what it seemed. It still isn't.

No one else could have done it. Could they?
---

---
This is not my first Louise Candlish book but I haven't read as many as I should have and if they're all as good as The Only Suspect then I need to get onto that PDQ!
Alex and his wife, Beth, have a good life in the London suburb of Silver Vale, until a local nature trail, a project Beth has been very much involved with, is set up and opens with a great fanfare. All of a sudden, Alex is on edge, waiting for a long forgotten secret to resurface. The chapters in this book either follow Alex in the current day or take us back to 1995 when what happened in the past gradually unfolds.
This is a brilliantly plotted story, in fact I marvelled at the author's writing abilities and the way I was immediately drawn into both timelines. Whilst I kind of had an inkling something wasn't right and did have a good idea about one of the plot points, it's so pacy and so clever that I was just completely swept away by it and HAD to know what was going to happen next.
What a book this is! I didn't want to put this cracking thriller down. Bravo Louise Candlish for making this book utterly gripping and totally unputdownable, thoroughly twisty, and with some bursts of dry humour that made me laugh out loud. This is exactly how I want my psychological thrillers to be. I absolutely loved the ending too and I closed the book with a wry smile on my face. I highly recommend this amazing book.
---
---
Louise Candlish is the Sunday Times bestselling author of fourteen novels. Our House, a #1 bestseller, won the Crime & Thriller Book of the Year at the 2019 British Book Awards, was longlisted for the 2019 Theakston Old Peculier Crime Novel of the Year, and was shortlisted for the Goldsboro Books Glass Bell Award. It is soon to be a major ITV drama made by Death in Paradise producers Red Planet Pictures. Louise lives in London with her husband and daughter. Visit her at LouiseCandlish.com or connect with her on Twitter @Louise_Candlish.