ShortBookandScribes #BookReview – The Night She Disappeared by Lisa Jewell
It's always an exciting time when a new Lisa Jewell book comes out. I'm sharing my thoughts about The Night She Disappeared today, which was published on 22nd July by Century. My thanks to Najma Finlay for sending me a proof copy of the book for review purposes.
---

---
'Mum, there's some people here from college, they asked me back to theirs. Just for an hour or so. Is that OK?'

Midsummer 2017: teenage mum Tallulah heads out on a date, leaving her baby son at home with her mother, Kim.

At 11 p.m. she sends her mum a text message. At 4.30 a.m. Kim awakens to discover that Tallulah has not come home.

Friends tell her that Tallulah was last seen heading to a pool party at a house in the woods nearby called Dark Place.

Tallulah never returns.

2018: walking in the woods behind the boarding school where her boyfriend has just started as a head teacher, Sophie sees a sign nailed to a fence.

A sign that says: DIG HERE . . .
___________________________
A cold case. An abandoned mansion. A family hiding a terrible secret.
Prepare to be hooked. Lisa Jewell's latest thriller is her best yet.
---
---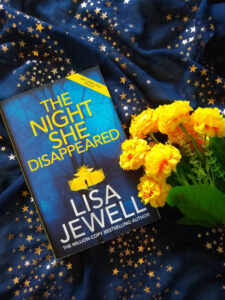 I have always loved a Lisa Jewell book so I eagerly picked up The Night She Disappeared and what a fantastic, twisty read it is.
In 2017, Tallulah and her boyfriend, Zach, go missing after a night out. Her mum, Kim, is at home looking after Tallulah's baby son, Noah, and waiting for her to return. In 2018, Sophie and her boyfriend, Shaun, move into the headteacher's cottage at Maypole House boarding school. Sophie is a detective writer and when she discovers a cardboard sign in the garden saying "dig here" she's immediately intrigued and on the case.
The story is told in three different timelines. What's quite unusual is that these timelines are really close together but each is completely distinct and I never felt confused or got them muddled up. There's the time running up to the disappearance, the time immediately afterwards and then the 2018 thread which takes place the following year. Lisa Jewell has done a brilliant job with the plotting, bringing each thread together perfectly and drip-feeding details to the reader. I had no idea at all what had happened to the teenagers.
I thought sense of place was really strong in this book. Dark Place is a mansion which features strongly and it's so atmospheric to read about. Tallulah's village and the school and college are also really well drawn. I did wonder how the author was going to bring it all to a conclusion and I thought it was more likely to be one outcome than the other, but the ending did work and again, that was down to the clever plotting.
This book really made me think about the people who disappear and are never found. How easy it can be to be wiped off the face of the planet and how on earth do people cope with losing a loved one in that way? It's such a tangled web of facts and deceit, combining to make a really mysterious and exciting read. This is a pretty big book at 480 pages but The Night She Disappeared is one that kept me hooked from beginning to end.
---

---
LISA JEWELL was born in London in 1968.
Her first novel, Ralph's Party, was the best- selling debut novel of 1999. Since then she has written another eighteen novels, most recently a number of dark psychological thrillers, including The Girls, Then She Was Gone and The Family Upstairs (all of which were Richard & Judy Book Club picks).
Lisa is a New York Times and Sunday Times number one bestselling author who has been published worldwide in over twenty-five languages. She lives in north London with her husband, two teenage daughters, one cat, one guinea pig and the best dog in the world.