ShortBookandScribes #BookReview – The Night Olivia Fell by Christina McDonald @Christinamac79 @HQstories
My review today is for this fabulous book, The Night Olivia Fell by Christina McDonald. My thanks to the author for sending me a copy of the book for review purposes.
A fast-paced and action-packed thriller, full of twists and turns you won't see coming. It is the most gripping suspense mystery you'll read this year.

They said it was an accident. Her mother knows they're lying. But the truth comes with a price…

IT'S EVERY PARENT'S WORST NIGHTMARE.

Abi Knight is startled awake in the middle of the night to a ringing phone and devastating news – her teenage daughter, Olivia, has been in a terrible accident.

Abi is told that Olivia slipped and fell from a bridge into the icy water below, and now she lies silent, dependent on life support.

But then Abi sees the angry bruises around Olivia's wrists and learns that her sensible daughter is in fact three months pregnant . . .

WOULD YOU BELIEVE IT IF THEY TOLD YOU IT WAS AN ACCIDENT?
Or support your high street with Hive.
The ebook is available now and the paperback from 7th March.
---

This book is amazing! Read it. End of story.
Ok, I guess you want to know a bit more. Olivia is a 17 year old girl when she falls from a bridge and is brain damaged beyond all hope. Her mother, Abi, is understandably devastated. Being a single mother, her and Olivia were close and Abi just wanted to protect her. Where did it all go wrong? Because Abi can see that Olivia's fall may not have been an accident and also, Olivia is pregnant. Abi becomes determined to find out what really happened to Olivia.
This is a book that hits the ground running and right from the prologue it's thrilling and I found it hard to put down. We see the current situation through Abi's eyes and follow her investigations into what happened that night, and we also see flashbacks of the past through Olivia's eyes which brought to life a character who is now silent.   I liked both of the main characters very much and could really identify with Abi's distress over her daughter who is being kept alive until the baby is born and then she will die. The end section was really emotional and I might just have shed a tear or two. How could I not? This is heartbreaking stuff.
I wasn't sure I would get on with Olivia's sections at first. I don't have much in common with a 17 year old student! But she had a good head on her shoulders and I feel pleased that I was able to 'meet' her. I certainly preferred her to some of the teenagers in the book! But I thought they were all well-portrayed, doing all the things that teenagers do.
I find the lines blurred for me between what is a psychological thriller and what isn't. This has elements of the thriller about it but it's more the heartbreaking story of a mother's love and what she will do for her daughter, not just now but for the whole of her life. It's also full of suspense. We're not only kept guessing about whether Olivia fell or was pushed, but other secrets come to the fore as the story progresses and this made it a genuinely thrilling read.
For a debut I think this is a fabulous piece of writing. Christina McDonald is an accomplished author, she's weaved a story that not only kept me interested but had me needing to know some answers. I thought it was brilliant.
---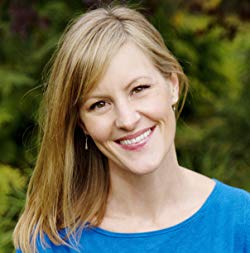 Christina McDonald is an author, journalist, and copywriter, and has worked for companies such as The Sunday Times, Dublin, The Connacht Tribune, Galway, Expedia, USATODAY.com, Travelex, and Pearson Publishing. Originally from Seattle, WA, she holds an MA in Journalism from the National University of Ireland Galway, and now lives in London, England.
Author bio and photo taken from Amazon