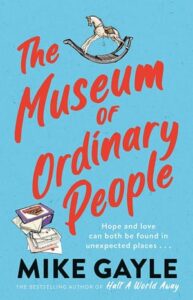 ShortBookandScribes #BookReview – The Museum of Ordinary People by Mike Gayle #BlogTour
It's my stop on the blog tour for The Museum of Ordinary People by Mike Gayle. My thanks to Jenny Platt from Hodder for the proof and finished copies of the book and for the place on the tour.
The Museum of Ordinary People is out now in hardcover, eBook and audiobook.
---

---
Still reeling from the sudden death of her mother, Jess is about to do the hardest thing she's ever done: empty her childhood home so that it can be sold.

But when in the process Jess stumbles across the mysterious Alex, together they become custodians of a strange archive of letters, photographs, curios and collections known as The Museum of Ordinary People.

As they begin to delve into the history of the objects in their care, Alex and Jess not only unravel heartbreaking stories that span generations and continents, but also unearth long buried secrets that lie much closer to home.

Inspired by a box of mementos found abandoned in a skip following a house clearance, The Museum of Ordinary People is a thought-provoking and poignant story of memory, grief, loss and the things we leave behind.
---

---
I love Mike Gayle's books so The Museum of Ordinary People was always going to be high on my reading list, but I'm not sure I could have resisted the lure of the title anyway.
Jess has just lost her beloved mother and when she's clearing out her house she realises that some items are hugely important to her for sentimental reasons. They don't quite fit into her boyfriend's pristine home and so when she finds out about The Museum of Ordinary People she thinks it might be the answer to what to do with her precious items.
I absolutely loved the idea of the museum and it's much more my kind of place to visit than somewhere with artefacts on show. This is a museum of people's belongings, ones that once meant so much but have now been rescued from the scrap heap, the skip or the dump. I was completely enthralled by the items and the stories behind them. Perhaps there was nobody to pass them onto, or the owner simply no longer had the space for them, but either way they are memories, pieces of the past, and Jess is there to save them.
I really liked the characters, not only Jess but particularly Alex, who she meets when she first comes across the museum and who is a man with a mystery at his heart, along with so many other great characters who come together to make this a really gorgeous story.
This is a perfect read for a sentimental soul like me. I pick up items and remember the story behind them and that's exactly what Jess wants for her museum pieces: for the stories behind them not to be lost. Along the way, she undergoes a series of momentous changes in her life and I really enjoyed following her as she came out the other side. The epilogue was perfect and I did shed a little tear or two at the end (sentimental – I did say!).
If a real Museum of Ordinary People existed I would love to visit it. For now I will content myself with having adored this wonderful tale of love, loss, and treasured mementoes. Mike Gayle never disappoints and has once again delivered a beautifully crafted, thoughtful and thoroughly heart-warming story.
---
As I was reading this book I was wondering what item I might like to put into The Museum of Ordinary People. It would be my piano. It originally belonged to my great-grandmother who was given it as a gift from my great-grandfather. He said she could either have a piano or singing lessons and she chose the piano. It was then passed onto my great-aunt and I remember playing duets with her on it. She then passed it to me and it's now over 100 years old. Sadly, I don't have the space to store it where I live now and so I eventually bought a much smaller digital piano which fits nicely into our hallway. Currently the piano is stored in my dad's work office and I can't imagine what people think when they walk in and see it there! I'm not sure what will happen to it in the long run and that makes me sad. I need The Museum of Ordinary People!
---

---
---
---
MIKE GAYLE was born and raised in,Birmingham. After graduating from Salford University with a degree in Sociology, he moved to London to pursue a career in journalism and worked as a features editor and agony uncle. He has written for a variety of publications including The Sunday Times, the Guardian and Cosmopolitan.
Mike became a full-time novelist in 1997 following the publication of his Sunday Times top ten bestseller My Legendary Girlfriend, which was hailed by the Independent as 'full of belly laughs and painfully acute observations', and by The Times as 'a funny, frank account of a hopeless romantic'. Since then he has written sixteen novels, including The Man I Think I Know, selected as a World Book Night title, and Half A World Away, selected for the Richard and Judy Book Club. His books have been translated into more than thirty languages. In 2021, Mike was the recipient of the Outstanding Achievement Award from the Romantic Novelists' Association.
He lives in Birmingham with his wife, kids and greyhound.
You can find him online at mikegayle.co.uk and on Twitter @mikegayle.