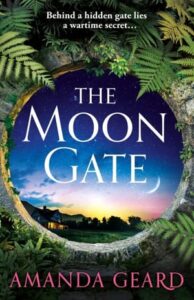 ShortBookandScribes #BookReview – The Moon Gate by Amanda Geard
The Moon Gate by Amanda Geard will be published in hardcover and audiobook by Headline on 8th June and is available now in ebook. My thanks to Isabelle Wilson for the proof copy.
---

---
A faded photograph. An abandoned house. A wartime secret . . .

1939: On the eve of war, young English heiress Grace Grey travels from London to the wilderness of Tasmania. Coaxed out of her shell by the attentions of her Irish neighbour, Daniel – Grace finally learns to live. But when Australian forces are called to the frontline, and Daniel with them, he leaves behind a devastating secret which will forever bind them together.

1975: Artist Willow Hawkins, and her new husband, Ben, can't believe their luck when an anonymous benefactor leaves them a house on the remote Tasmanian coast. Confused and delighted, they set out to unmask Towerhurst's previous owner – unwittingly altering the course of their lives.

2004: Libby Andrews has always been sheltered from the truth behind her father Ben's death. When she travels to London and discovers a faded photograph, a long-buried memory is unlocked, and she begins to follow an investigation that Ben could never complete. But will she realise that some secrets are best left buried . . .?
---

---
Three timelines: 1939, 1975 and 2004. Each linked by the secrets of the past. Grace Grey leaves her home in London just before the outbreak of World War II to stay with her uncle in Tasmania. A sickly sort of girl, she finds she's brought out of herself by Daniel, a young Irishman that she meets at Towerhurst, her uncle's unusual home. In 1975 Ben and Willow Andrews inherit Towerhurst and Ben feels a need to uncover the reasons why. In 2004, Libby, Ben and Willow's daughter, leaves Tasmania to travel to London searching for answers about her father's death and what he was looking into before he died.
A long-forgotten satchel and its contents captured my imagination from the very beginning of this book and I was utterly mesmerised until I turned the final page. The three very distinct timelines felt as though they were slotted together effortlessly and yet I know that to intertwine them so completely perfectly must have taken Amanda Geard a long time and a lot of planning to get right – and just to confirm, she absolutely got it right.
This is a book that is very intricately plotted and as such it sometimes meant spending a little longer absorbing the detail. It shouldn't be rushed and it's well worth the extra time to become fully immersed in the plot. It's a lengthy read at just over 500 pages but a part of me wanted it to go on forever. I read a lot of books with more than one timeline and I invariably enjoy them, but The Moon Gate gave me a bit extra, it gave me a mystery that unfolded gradually with some lightbulb moments where I had to turn back to see how it all slotted together. I love a book that's like a complex jigsaw puzzle which isn't just handed to me already semi-completed. I also particularly enjoyed the amazing ballads that form links between the timelines.
The Moon Gate is a stunning piece of historical fiction. In the last third or so every chapter seems to end with a cliff-hanger or an unanswered question which made me exclaim out loud but then I'd turn the page and be once again engrossed in one of the other timelines. I could write so much about this book but all you really need to know is that if you love an involving, moving and beautifully written historical family drama full of intrigue which pulls together threads that you can't even imagine can be connected then this is the book for you. It will be one of my favourites of this year.
---
---
Born in Australia, Amanda Geard has lived all over the world, from a houseboat in London to a Norwegian Island, before settling in County Kerry in Ireland. Her writing has appeared in The Irish Times, The Journal, writing.ie, Nordic Reach and Vertical Magazine. Her short story Not Yet Recycled won the New Irish Writing Award in October 2019.