ShortBookandScribes #BookReview – The Memory Wood by Sam Lloyd @TransworldBooks #RandomThingsTours #BlogTour
Wow, what a book The Memory Wood is. I'm delighted to be reviewing it today for the blog tour. My thanks to Thomas Hill from Transworld for the proof copy of the book for review purposes and to Anne Cater of Random Things Tours for the place on the tour.
---

Elijah has lived in the Memory Wood for as long as he can remember. It's the only home he's ever known.

Elissa has only just arrived. And she'll do everything she can to escape.

When Elijah stumbles across thirteen-year-old Elissa, in the woods where her abductor is hiding her, he refuses to alert the police. Because in his twelve years, Elijah has never had a proper friend. And he doesn't want Elissa to leave.

Not only that, Elijah knows how this can end. After all, Elissa isn't the first girl he's found inside the Memory Wood.

As her abductor's behaviour grows more erratic, Elissa realises that outwitting strange, lonely Elijah is her only hope of survival. Their cat-and-mouse game of deception and betrayal will determine both their fates, and whether either of them will ever leave the Memory Wood . .
---
Wow! I thought this book was amazing. It's both a conventional thriller and a psychological thriller and I was totally gripped by it.
There are three stories in this book, that of Elissa, Elijah and Mairéad. Deep in the Memory Wood lives Elijah, a lonely and disturbed boy. When Elissa is brought to the wood he wants to be her friend but he also knows that becoming her friend could be a dangerous move. Mairéad is the policewoman investigating Elissa's disappearance.
First off, I absolutely loved 13 year old Elissa. What a strong and gutsy girl she is. She's also incredibly clever, a chess player, a code breaker and, she hopes, a survivor. As I followed her through her abduction I was just willing her to keep going, to keep fighting.
This is such a fantastic story. It's so well constructed, bringing all the pieces together bit by bit to create the whole picture. There were quite a few surprises along the way and I thought the author did a brilliant job at unleashing them at just the right moment. The pacing is done to perfection. I soaked up every bit of this atmospheric novel, the sinister settings and the darkness within the characters and their stories.
Sam Lloyd has quite the imagination. He's taken a fairy tale (Hansel & Gretel), already quite twisted, and used it as a basis for The Memory Wood but he's added extra twists and turns. It's laced with unpleasant characters and yet there's always a sense of hope. I had a lump in my throat at the end too. My goodness, this book has it all really!
---

---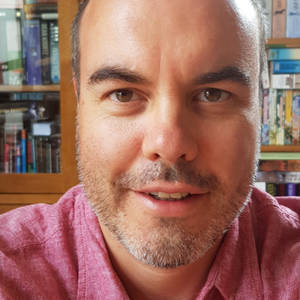 Sam Lloyd grew up in Hampshire, making up stories and building secret hideaways in his local woods. These days he lives in Surrey with his wife, three young sons and a dog that likes to howl. He enjoys craft beer, strong coffee and (rarely) a little silence. The Memory Wood is his debut thriller.
Note from the Author
I already had my crime scene. Pretty soon, I had my protagonist: thirteen-year-old chess prodigy Elissa Mirzoyan, a quietly precocious girl who wakes underground after being snatched on the most important day of her life. Her determination to survive the coming ordeal wouldn't be driven by mere instinct. It would come from a flat-out refusal to leave her mum alone in the world, and would be tempered by a ferocious hunger for vengeance. Plotting a novel, for me, always feels more like a process of investigation than invention – the slow reveal of a dirt-covered mosaic. And as I teased out more of this story's
individual tiles, I learned something even more compelling about Elissa's plight. While engaging her abductor in increasingly dangerous mind games, she'll face a separate threat even harder to navigate. It'll come in the form of a frail young boy, Elijah North, who discovers her subterranean prison while playing in his local woods. Steadily, Elissa will gain Elijah's trust. But when she persuades him to raise the alarm, he'll return with a tale too outlandish to be credible. More of the mosaic revealed itself, at which point I learned something about the story that knocked me flat. And then I had to write the book, just to find out how it ended…