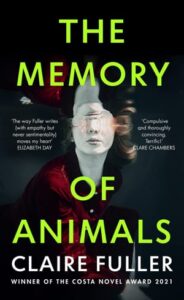 ShortBookandScribes #BookReview – The Memory of Animals by Claire Fuller
The Memory of Animals by Claire Fuller will be published by Penguin Fig Tree on 20th April in hardcover, ebook and audiobook. My thanks to the publishers for the proof copy of this amazing book.
---

---
From the Costa-Winning, Women's Prize-shortlisted author of Unsettled Ground: a gripping, haunting novel about memory, love and survival, for readers of Never Let me Go and Leave the World Behind

Neffy is a young woman running away from grief and guilt, and the one big mistake that has derailed her career. When she answers the call to volunteer in a controlled vaccine trial, it offers her a way to pay off her many debts and, perhaps, to make up for the past.

But when the London streets below her window fall silent, and all external communications cease, only Neffy and four other volunteers remain in the unit. With food running out, and a growing sense that the strangers she is with may be holding back secrets, Neffy has questions that no one can answer. Does safety lie inside or beyond the unit? And who, or what is out there?

While she weighs up her choices, she is introduced to a pioneering and controversial technology which allows her to revisit memories from her life before: a childhood divided between her enigmatic mother and her father in his small hotel in Greece. Intoxicated by the freedom of the past and the chance to reunite with those she loves, she increasingly turns away from her perilous present. But in this new world where survival rests on the bonds between strangers, is she jeopardising any chance of a future?

The Memory of Animals is a taut and emotionally charged novel about freedom and captivity, survival and sacrifice and whether you can save anyone before you save yourself.
---

---
Neffy is a half-Greek woman in her late twenties. In the midst of chaos and grief, and as a virulent virus becomes a pandemic, she volunteers to take part in a vaccine trial. Whilst she is in the private clinic the world outside stills and she finds herself holed up with four other volunteers and no signs of life outside. The one thing that offers light against the shade is a clever piece of technology that allows her to revisit moments from her past, and for Neffy remembering becomes a way of dealing with what's happening in the present.
Whilst set currently and written in the wake of our own pandemic, The Memory of Animals has a touch of the dystopian about it, and the virus has disturbing effects. From the beginning I was thrust into a world that felt both unthinkable and all too real. The story is lingering with me still, pulling me back into Neffy's world which I didn't want to leave behind.
The story has three facets: there's the clinic and how the volunteers interact and learn to live alongside each other; there's Neffy's memories of times in Greece with her father, with her mother, her childhood and more; and then there's Neffy's letters to H which offer a little more background to her life. Claire Fuller pulls each thread together expertly, intertwining themes of captivity and endurance.
The Memory of Animals is easily going to be one of my favourite books of the year. I've read Fuller's books before so I knew it was going to be good, but it exceeded everything I imagined it could be. The writing is mesmerising and beautiful, painting a full picture of life and loss from a personal point of view and also looking out on the wider world. I found it addictive and thought-provoking with an ending that made me cry. This book is an absolute stunner, a truly special read.
---
---
Claire Fuller was born in Oxfordshire, England, in 1967. She gained a degree in sculpture from Winchester School of Art, but went on to have a long career in marketing and didn't start writing until she was forty. She has written four previous novels: Unsettled Ground, which in 2021 won the Costa Novel Award and was shortlisted for the Women's Prize for Fiction, Our Endless Numbered Days, which won the Desmond Elliott Prize, Swimming Lessons, which was shortlisted for the RSL Encore Award, and Bitter Orange. She has an MA in Creative and Critical Writing from the University of Winchester and lives in Hampshire with her husband.